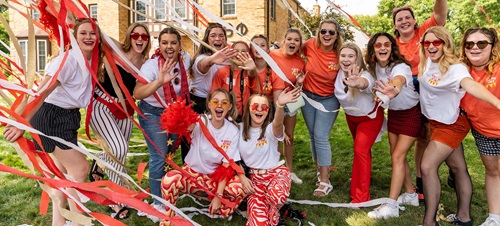 Sorority & Fraternity Life
Develop lifelong friendships, become leaders that make a difference and excel as students by joining Greek Life.
Why is Greek Life Right for You?
Joining a sorority or fraternity is more than entering a new friendship circle. As a member of Greek life at USD, you'll have the chance to:
Discover new leadership opportunities, like managing budgets over $500,000 or serving on executive boards
Serve your community and national nonprofits through organized philanthropy events
Save money on housing and be eligible for more than $140,000 in local and national chapter scholarships
Establish a network of notable alumni from around the country
Have access to resources like peer tutoring and academic coaching
With four sororities and seven fraternities, you'll have plenty of options to find the chapter that feels most like home. You'll build memories that will last a lifetime, while also developing skills that will help you inside and far beyond your years as a USD student.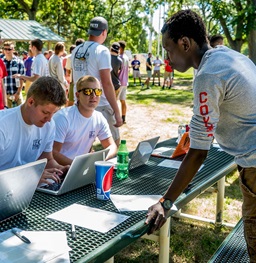 Community Service 
As a member of a sorority or fraternity, you will be actively involved in organizing and leading community service opportunities that will translate into a variety of professional skills you will use throughout your career. Our sorority chapters collectively raise thousands of dollars for organizations like Women's Heart Health, CASA, Read Lead and Achieve and Kindly Hearts Campaign.
To learn more about philanthropy activities organized by the Greek community, contact Greek Life.
Contact Greek Life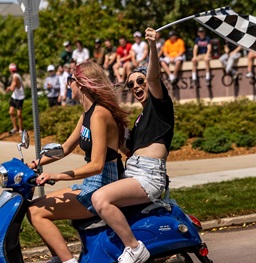 Become a Leader
Campus leadership positions help you stand out for internships, career opportunities and graduate schools. As a member of Greek life, you're provided with more than 250 leadership opportunities through your chapter, as well as through other organizations and Greek councils. Councils include Panhellenic Council, Interfraternity Council and Circle of Sisterhood.
Costs
Joining a fraternity or sorority is a great way to save money, discover additional scholarship opportunities and move into an off-campus home sooner than typically allowed. While membership fees and housing costs differ from chapter to chapter, all are affordable and comparable to other residence hall and rental options in the community. Fees and dues cover brotherhood/sisterhood events, badge and merchandise fees, council dues and many other opportunities!
New Member Fees
Sorority New Member Fees: Range from $560-$1,613 for the first semester
Fraternity New Member Fees: Average $500 for the first semester
Member Fees
When a student is initiated into their sorority and fraternity, costs can vary depending on if they decide to live in their chapter facility. USD requires that all students one or two years removed from high school live in residence halls. However, sorority and fraternity members, having completed 24 credit hours with a cumulative GPA of at least 2.0, may request to move into the chapter house during their third semester on campus.
Average Live-In Costs
All costs for living in a sorority or fraternity house include a meal plan.
Sorority In-House Dues: Average $3,032/semester
Fraternity In-House Dues: Average $3,151/semester
Women's Recruitment Costs
$30 - Women's recruitment lasts four days with a deadline of Sunday, August 27 at 11:59 p.m. Women's recruitment lasts four days and is Labor Day Weekend. Students can stay in their residence halls during this time. Costs include an additional t-shirt.
Men's Recruitment Costs
Men's recruitment is in the evenings during the second week of classes. There is no cost to sign up.
Scholarships & Financial Aid
More than 80 percent of USD students receive financial aid assistance, and members of the Greek community are no exception to that. Members of sororities and fraternities also receive additional scholarship opportunities from their local and national chapters. In 2019, members of the USD Greek community were awarded more than $154,000 in scholarships.
Meet the staff
Get to know the leadership of the Sorority & Fraternity Life experience at USD.