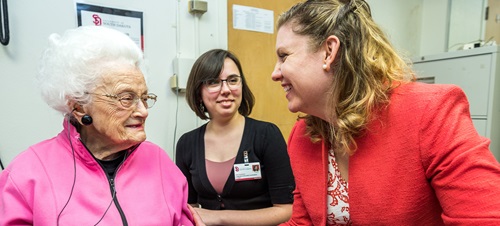 Speech Therapy for Parkinson's Disease
USD offers this clinically proven speech therapy approach for individuals with Parkinson's that combines education, individual speech therapy, and ongoing group sessions.
What is SPEAK OUT! & LOUD Crowd?
SPEAK OUT! Is a therapy regimen tailored to people with Parkinson's disease to improve their voicing, and in turn, their swallowing. In this program speech is transformed from an automatic function to an intentional task. SPEAK OUT! is usually completed in 12 sessions spanning four weeks. (After that the client transitions to the LOUD Crowd for another four weeks of group therapy.) Clients report improvement in their speaking, their ability to be heard, and their overall quality of life!
LOUD Crowd is the group therapy portion of the program and meets once weekly. The sessions provide maintenance for the skills learned during individual SPEAK OUT! sessions and are a source of camaraderie for members. The University of South Dakota, Speech-Language-Hearing Clinic offers LOUD Crowd for free to SPEAK OUT! graduates.
The SPEAK OUT! And LOUD Crowd therapy regimens were developed at the Parkinson Voice Project in Richardson, Texas.
Evaluation session (one time): $175
Individual therapy sessions: $60/session
LOUD Crowd (group therapy) is a free service for those who complete the full SPEAK OUT! therapy schedule
For more information:
Dr. Elizabeth K. Hanson
Elizabeth.hanson@usd.edu
T: 605-658-3870
Our Partners
This non-profit group aims to preserve the speech and communication of individuals with Parkinson's and related neurological disorders through continuous speech therapy, follow-up support, research, education, and community awareness.