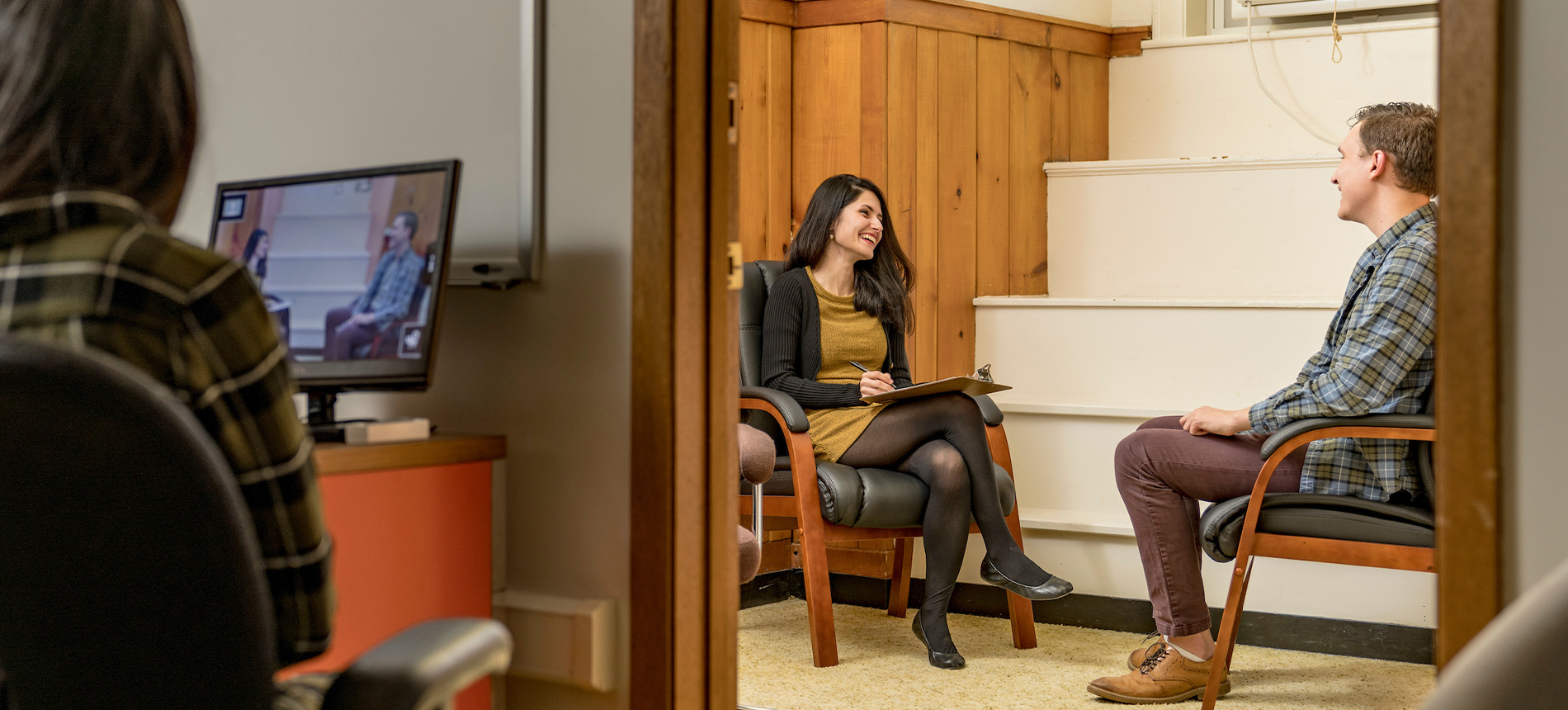 Psychological Services Center
Center/Institute
The Clinical Psychology program is committed to the scientist-practitioner model of training.
Psychological Services Center
University of South Dakota – Noteboom Hall 117
414 E. Clark St.
Vermillion, South Dakota 57069
Office Hours
Monday - Friday
8:00 a.m. - 5:00 p.m.

Some evening availability upon request
Who We Are
The Psychological Services Center at the University of South Dakota provides high quality evidence-based mental health services to children, adolescents, adults, couples, and families. Our services include individual therapy, family therapy, couples therapy, group therapy, diagnostic assessment, and consultation. Our team provides support, education, and mental health services to individuals with anxiety, depression, trauma, stress, relationship difficulties, life transitions, grief and loss, among other concerns. For children and adolescents, we can help with promoting healthy development, such as coping skills, social skills, parenting skills, toilet-training, sleep, and eating, as well as addressing concerns such as defiant/aggressive behaviors, ADHD, autism, trauma, anxiety, and depression. We strive to serve the needs of the local community surrounding Vermillion, including students on campus. We believe in a collaborative and individualized approach to treatment that prioritizes unique goals and circumstances. As the only training clinic for doctoral clinical psychologists in South Dakota, we are uniquely able to provide cutting edge therapy and assessment services supervised by experts in the field at low or no cost.
What to Expect
After calling the PSC, we will ask you some questions about your unique needs to make sure we are the best fit for you at this time. That information is used to match you to a therapist that is best suited to help you. We complete a thorough assessment to tailor treatment to your specific concerns. In collaboration with you, we develop a treatment plan and discuss evidence-based options for care.
Individual psychotherapy for children, adolescents, and adults
Couples and family therapy
Diagnostic assessments for children, adolescents, and adults, including ADHD and learning disability testing
Consultation services
Presentations and workshops to groups, associations, schools, agencies, and business around the Vermillion area
To request services, you can call the PSC directly during business hours. You can also provide the following information so we are able to contact you about the services at the PSC and your current concerns:
Given our affiliation with USD, we offer free services to USD undergraduate and graduate students, and we provide reduced cost services to USD employees, including their family members. For people seeking mental health services that are not associated with USD, we provide a sliding scale fee for our services and will review options with you at your first visit. Everyone who is accepted as a client at the PSC must pay a one-time client fee of $20.00 at the end of the first clinical session to cover assessment materials and general administrative costs, with the exception of those who are referred from the Student Counseling Center. For diagnostic assessment and consultation, our prices are competitive with other providers in the area.
We are committed to providing high quality evidence-based care to our community and campus. Our ultimate purpose is to provide access to excellent mental and behavioral health services in our under-served rural community and be inclusive for individuals who may not otherwise be able to access or afford mental health treatment. Services are not denied to anyone on the basis of cultural or ethnic background, age, gender, sexual orientation, disability, religious tradition, or ability to pay full fees for services. In addition to requesting services for yourself, we accept referrals from physicians, school personnel, other mental health professionals, and family members, and our team aims for collaborative care with other service providers. The Psychological Services Center is the primary clinic for the only American Psychological Association (APA)-accredited doctoral training program in Clinical Psychology in the state of South Dakota. Our faculty, staff, and students are committed to the local community and improving mental health outcomes for all those in need.