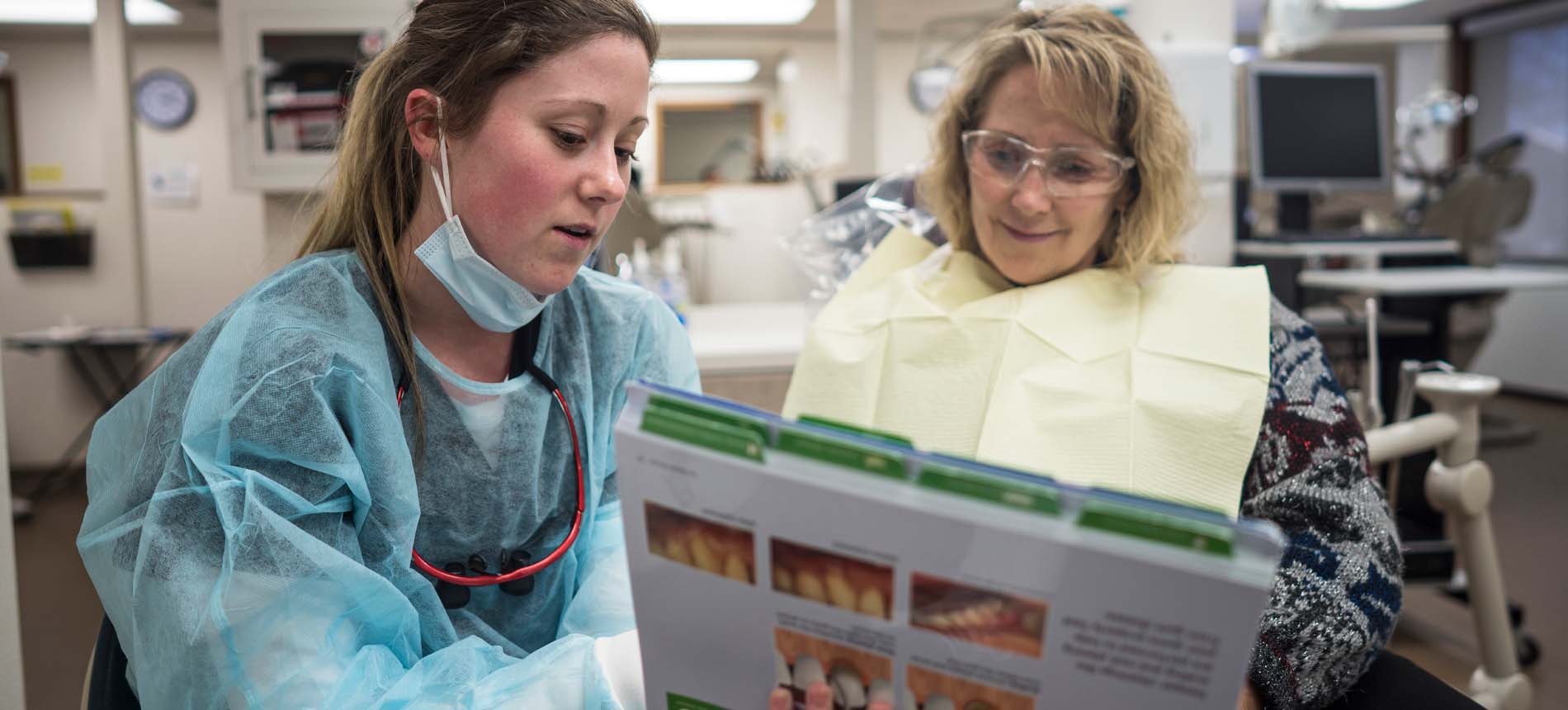 Delta Dental Oral Health Center
Facility
The Delta Dental Oral Health Center is a new community dental hygiene clinic at USD, named in honor of a $1 million gift from the Delta Dental of South Dakota Foundation. Services are open to the public.
Delta Dental Oral Health Center
Office Hours
Monday - Friday
8:00 a.m. - 5:00 p.m.
Contact Us
For appointments in Vermillion, call 605-658-5959

Hours: Monday and Tuesday 8 a.m. - 11:30 a.m. 1 p.m. - 4:30 p.m. Wednesday and Thursday 8:30 a.m. - 12 p.m. 1 p.m. - 4:30 p.m.

Directions:


From Cherry Street (Highway 50):
Turn south on Pine Street at Burger King. Campus will be on the west (right) side of the street.
Just past Burgess/Norton Hall (two-and-a-half blocks), there is a parking lot entrance. Follow this entrance to the west end of the parking lot.
Park in the visitor parking if available. If not available, park anywhere else in the lot (except in handicapped unless you have a permit).

Our clinic entrance is to the north (right), up a short flight of stairs. Handicap accessibility is available via a ramp at this entrance also. There is an entrance on the north side as well. Please come in and get a parking permit to lay on the driver's side dash of your car. You will need this permit wherever you park in the lot, even in visitor parking (not needed if in handicapped parking with permit).
USD Dental Hygiene Campus Clinic
Our students utilize the Dental Hygiene Campus Clinic to give back to the community and gain hands-on practical experience with patients. From performing standard teeth cleanings, oral health exams, bedside manner and more USD dental hygiene students are excited about the experience.
Schedule an appointment today in Vermillion or Sioux Falls to receive services at a reduced rate and excellent care.
Patient Rights and Care Policy & Privacy Practices
We value you as a patient in our facilities. We respect your rights but also ask that you recognize your responsibilities. Should you at any time feel that your rights as a patient have not been upheld, or if you have any other complaints, please contact the department chairperson at 605-658-5959.
Known for Excellence
With qualities like small class sizes, specialized programs and incredible student opportunities, USD is not your typical university. What makes us unique is what makes your education exceptional.
The Best in the Region
USD offers the state's only dental hygiene program and is the region's leader in health care education.
99% Pass Rate
Our students have had a 99% success rate on the National Board Dental Hygiene Examination for more than 15 years.
$1 Million in Support
A gift from Delta Dental is supporting USD's new School of Health Sciences building and a new community dental hygiene clinic at USD.
Departments & Facilities
Explore the departments, facilities and centers housed in the Department of Dental Hygiene.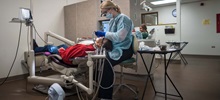 The Department of Dental Hygiene provides students with enriching experiences in and beyond the classroom as they prepare for careers in oral health and oral disease prevention.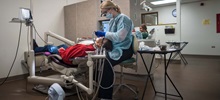 Our dental hygiene clinics in Sioux Falls and Vermillion are open to the public. Students learn in the clinics under the close supervision of licensed dentists and licensed hygienists. Our services are offered at reduced rates; however, appointments generally take more time than traditional dental offices.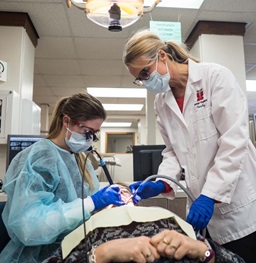 Dedicated to Service
Our faculty and students are committed to improving the health of their communities through service. From leading oral disease prevention activities to offering dental hygiene services at clinics and centers across the state, our department is actively making a difference in the lives of others.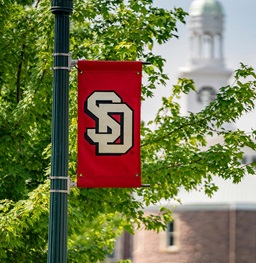 The Region's Leader in Health Care Education
USD is home to the only comprehensive health sciences school and medical school in the state. This advantage offers our students the unique opportunity to learn and train alongside peers in a variety of disciplines – equipping them with the collaborative experiences they need to be effective members of their future patients' care teams.
We are also proud to have strong relationships with the region's leading health care providers. These partnerships offer our students invaluable opportunities for developing professional connections, getting hands-on experiences and serving their communities early in their education.