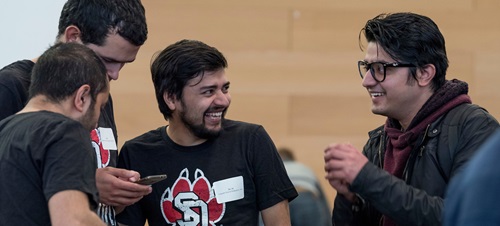 Artificial Intelligence
Push the boundaries of what's possible and develop AI technologies that influences the way we live today and tomorrow.
Keep Up with the Rapidly Growing Field of AI
The Artificial Intelligence (AI) certificate is offered both on campus and 100% online, it is a deep dive into the development of AI-driven tools for several different purposes that include machine vision/robotics, machine learning for big data, data analytics, internet of things, and information retrieval, where data include clinical texts, web-based social data/tweets, robotics and cultural heritage documents. In addition to the state-of-the-art AI-driven tools, USD is equipped with a high-performance computing center that will be used in the AI courses.
Degrees & Offerings
Artificial Intelligence
Certificate
Vermillion Main Campus and Online
If you are interested in data analytics with machine learning models, computational chemistry physics, business/finance and heath sciences, to name a few, you can benefit from this 12 credit hour online graduate certificate. You are not required to be a computer science major to apply. The credit hours earned in this certificate may transfer to earning your master's degree.
Program Details
Graduate
College
Department
Contact
Graduate Admissions
Start Your Application Today
Departments & Facilities
Our department is home to programs, resources and services that benefit our students, communities and academic discipline. The USD Department of Computer Science's award-winning faculty's research and teaching areas are primarily focused on algorithms, artificial intelligence, computer vision, machine learning, pattern recognition, data science, information retrieval, Internet of Things, cyber security and big data.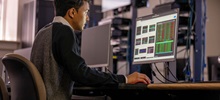 Learn to develop and manage technology that changes the world in the Department of Computer Science.
FACULTY & STAFF
Get to know the faculty and staff in the Departments of Computer Science and Marhe. Our faculty are experts in their field, contributing research and scholarship in algorithms, artificial intelligence, machine vision, machine learning, pattern recognition, data science, information retrieval, internet of things, cybersecurity and big data.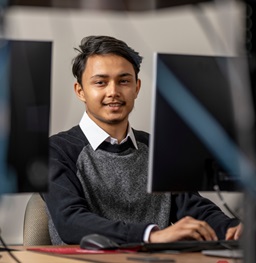 Take Your Classes Online
We're committed to bringing our knowledge to you. USD serves the largest number of online students in the state of South Dakota. With competitive online tuition rates, we offer the same price whether you're out-of-state or an in-state resident.
Take classes at your own pace, enroll in an online class today!
View All Online Programs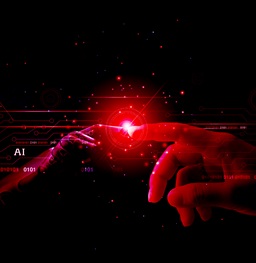 Take advantage of 546,000 new jobs by 2028!
According to the Bureau of Labor Statistics, employment of computer and information technology occupations is projected to grow 12% from 2018 to 2028, much faster than the average for all occupations. Demand for these workers will stem from greater emphasis on cloud computing, the collection and storage of big data, and information security, where machine learning—the heart of AI—is employed.