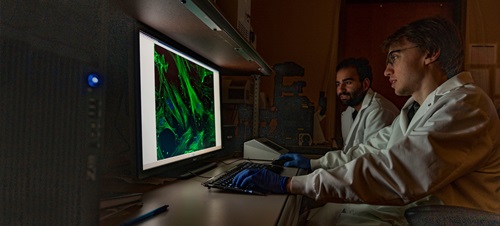 Biomedical Engineering
Apply engineering and science methodologies and to the analysis of biological and physiological problems to help people live healthier, fuller lives through the development of new health-care technologies.
Pioneer New Technologies
Set yourself up for an exciting career transforming lives and advancing the frontiers of biomedical science and engineering as a biomedical engineering student at USD. As a biomedical engineering student , you'll gain the engineering, physiological and biological knowledge you'll need to pioneer new technologies and excel in a rapidly growing field. At our state-of-the-art Graduate Education and Applied Research (GEAR) Center in Sioux Falls, you'll work alongside companies developing the latest in products and technologies that enable people to live better.
The program stresses laboratory investigation and original research under the direction of a faculty member. It also emphasizes flexibility and individual choice in the development of the your overall program of study to match your career goals.
Degrees & Offerings
Program Details
Graduate
College
Department
Contact
Graduate Admissions
Start Your Application Today
Each program has unique application requirements and deadlines. Be sure and consult the graduate catalog for detailed program information. It will ensure your application and materials are complete and submitted on time. To learn more about the application process, visit how to apply.
Known for Excellence
With qualities like small class sizes, specialized programs and incredible student opportunities, USD is not your typical university. What makes us unique is what makes your education exceptional.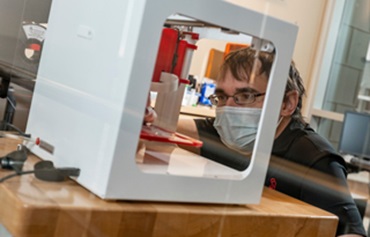 The GEAR Center is a collaborative environment where innovative solutions are sought to relevant problems and where entrepreneurism is encouraged.
Student Opportunities
The academic opportunities available to you extend beyond the classroom. Visit our department webpage for more information about the experiences and resources you will find at USD.
Learn more about biomedical engineering
Departments & Facilities
Explore the departments, facilities and centers that contribute to your education in the Department of Biomedical Engineering.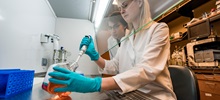 Biomedical engineering combines science, engineering and medicine to solve human health problems and improve quality of life. Biomedical engineers work with doctors to build medical devices that assist in the diagnosis and treatment of patients.
Faculty & Staff
Get to know the faculty in the Department of Biomedical Engineering. Our faculty are experts in their fields, bringing practical experience in tissue engineering, experimental design, nanomaterials and movement biomechanics to the classroom.
Develop Real-World Solutions
Whether you're pursuing a Ph.D. or a master's degree, the biomedical engineering department has options that fit your life. Help doctors build medical devices that enable people to live and work normally, intern at local corporations on the forefront of developing cures for disease and many students even start their own companies or use their biomedical engineering knowledge to excel in medical school.
Develop Solutions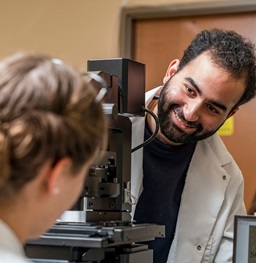 Work in State-of-the Art Laboratories
The GEAR center is home to world-class research, available to graduate and post-graduate students, we encourage collaborations between researchers at Regental universities, other universities and colleges, government agencies, small businesses and industries with related interests.
Surprisingly Affordable
Whether you've recently completed your undergraduate degree, or you want to kick your career up a notch, graduate school is the next logical step. The good news is there is funding for both online and on-campus students to get you through your program.
| | Resident & WRGP | MN Residents | Non-Resident |
| --- | --- | --- | --- |
| Tuition (9 cr.) | | | |
| Fees (9 cr.) | | | |
| Books (estimate) | | | |
More About Tuition & Fees
This is an estimate tuition rate* per credit hour and other factors such as special fees associated with your program may change the cost of tuition. Tuition rates are subject to change.
If you are wondering about how to pay for graduate school, there are additional funding options to consider.