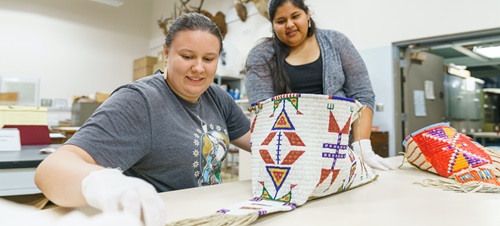 Museum and Archive Studies
Gain the professional training and internship opportunities you need to work in the museums and archives profession.
Help Preserve History
Study museum and archive studies in a certificate program. Career options involve helping preserve historical artwork and working as a preservationist in museums, public and private archives or historical organizations. The certificate includes potential internship experiences at the W. H. Over Museum, the University Archives and the National Music Museum.
You will learn about management practices, such as leadership, organizational behavior and resource development and cover in-depth topics such as exhibition development and design, visitor engagement and museum law and technology.
Degrees & Offerings
Museum and Archive Studies
Certificate
The museum and archive studies graduate certificate provides you professional training and internship opportunities to gain hands-on industry experience. This certificate can be embedded into the master's program in history, allowing you to graduate with a master's degree and certificate in two years.
Program Details
Graduate
College
Department
Contact
Graduate Admissions
Start Your Application Today
Departments & Facilities
Explore the departments, facilities and centers that contribute to your education.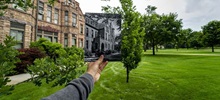 At the University of South Dakota, our Department of History houses numerous disciplines that exist at the intersection of curiosity, research, writing, storytelling and the human experience. Find the answers to your questions about people, events, institutions and values with the guidance and support of our exceptional faculty.
Faculty & Staff
Get to know your professors in the Department of History.
Surprisingly Affordable
Whether you've recently completed your undergraduate degree, or you want to kick your career up a notch, graduate school is the next logical step. The good news is there is funding for both online and on-campus students to get you through your program.
| | GA (Resident*) | Resident | Online | Non-Resident |
| --- | --- | --- | --- | --- |
| Tuition (1 cr.) | | | | |
| GAF Fee (1 cr.) | | | | |
| Total | | | | |
More About Tuition & Fees
Tuition rates are subject to change and may vary depending on the program or department. Visit the Graduate Tuition & Costs page for more information.
* Graduate Assistant (GA) rates are available for resident, non-resident and online students.
** Resident rates may be available to you through the SD Advantage, Child of Alumni or Western Regional Graduate Program. To see if you quality, visit usd.edu/grad-tuition.