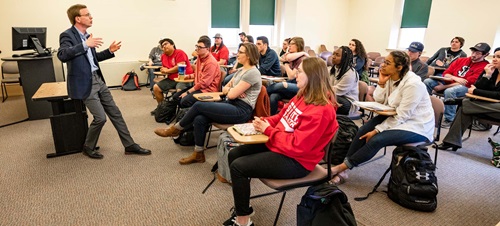 Civic Leadership Studies
Become a principled leader as a citizen of your community, state, country and world.
Why Minor in Civic Leadership Studies?
Through a minor in civic leadership studies, you will gain an understanding of the nature of leadership as responsible actions taken by individuals in every part of society, not just those in managerial positions. You will study skills specific to leadership, leaderships theories and the processes of civic engagement and partnerships.
Become a responsible leader with the skills to cope with complexity and change as a civic leadership studies minor at USD.
Degrees & Offerings
Civic Leadership Studies
Minor
This 18-credit minor includes three required courses specific to leadership skills and concepts and electives in management, leadership and civic engagement/partnerships.
Program Details
Undergraduate
College
Department
Contact
Admissions
Departments & Facilities
Explore the departments, facilities and centers that contribute to your education in political science.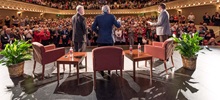 Whether you are interested in a career in government and politics, law, the criminal justice system, international relations or a related field, the real-world experiences and connections you find in the Department of Political Science will help you get there.
Faculty & Staff
Get to know faculty and staff in the Department of Political Science. Our faculty are experts in their fields, contributing research and scholarship in American government, criminology, victimology, international human rights, gender politics, race/ethnicity in politics, comparative political economy, international law and more. They bring practical experience in government, law and the private sector to the classroom.