Nonprofit Studies
Gain the knowledge and skills needed for advancement in the vibrant and growing nonprofit sector.
Why Study Nonprofit Studies?
The nonprofit sector offers students with diverse interests a form of public service outside of government work. Nonprofit organizations provide a broad range of public services in South Dakota, the U.S. and around the world. Through the nonprofit studies minor, you'll learn how to lead nonprofits in program development, budgeting and finance, program evaluation and general administration. You'll graduate with a strong understanding of several key concepts:
How nonprofit organizations work with government and private-sector organizations to serve the broad public interest.
How nonprofit staff, board and volunteer relationships are developed for the successful achievement of organizational goals.
Best practices in nonprofit fundraising and resource management.
How to evaluate nonprofit performance and disseminate results to the community at large.
Degrees & Offerings
Nonprofit Studies
Minor
Through coursework, internship experiences and service-learning opportunities, you'll learn about the nonprofit sector and develop the skills you need to contribute meaningfully to a nonprofit.
Program Details
Undergraduate
College
Department
Contact
Admissions
Departments & Facilities
Explore the departments, facilities and centers that contribute to your education in nonprofit studies.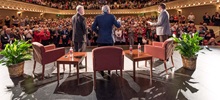 Whether you are interested in a career in government and politics, law, the criminal justice system, international relations or a related field, the real-world experiences and connections you find in the Department of Political Science will help you get there.
Faculty & Staff
Get to know faculty and staff in the Department of Political Science. Our faculty are experts in their fields, contributing research and scholarship in American government, criminology, victimology, international human rights, gender politics, race/ethnicity in politics, comparative political economy, international law and more. They bring practical experience in government, law and the private sector to the classroom.