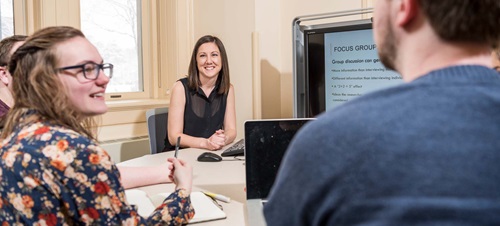 Organizational Communication
Enhance your skills by learning to communicate effectively across disciplines, industries and organizations.
Why Study Organizational Communication?
As an organizational communication minor at USD, you will learn to communicate professionally to influence organizational and technological change. Your studies will provide a strong foundation in written and interpersonal communication and an enhanced understanding of cultures and individuals. Our program provides you with rich experiences to prepare you for career advancement in a variety of fields, including business, media, nonprofit organizations, arts and entertainment, government, human resources and labor relations, customer service, sports, hospitality and travel.
Degrees & Offerings
Organizational Communication
Minor
Vermillion Main Campus, Sioux Falls and Online
A minor in organizational communication will help you develop interpersonal skills, critical thinking and proficient writing. Required courses for this minor include Business Writing, Interpersonal Communication and Introduction to Mass Communication. This flexible minor is particularly well suited for students majoring in business or in criminal justice or sociology online.
Organizational Communication
Certificate
Vermillion Main Campus, Sioux Falls and Online
Students graduating with a certificate in organizational communication will have documented preparation for communicating effectively and purposefully, which is relevant for a variety of fields.
Program Details
Undergraduate
College
Department
Contact
Admissions
Departments & Facilities
Explore the departments, facilities and centers that contribute to your education in organizational communication.
Communication is at the center of everything we do. Explore the role communication plays in our personal relationships, professional experiences and public leadership through the Department of Communication Studies.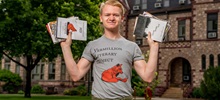 Investigate and gain insight into how we understand ourselves and communicate through stories, poetry and other narratives. Cultivate your ability to read and write and think about complex issues with the Department of English.
Media connects us to each other and our world. Explore the art of storytelling and media marketing through the Department of Media & Journalism.