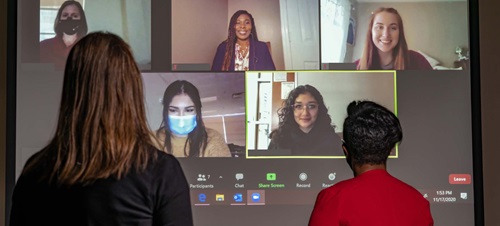 Public Health
Position yourself for a successful career as a public health generalist. You'll learn to promote the health and well-being of communities as you develop the skills you need to become a leader in public health.
Why Study Public Health?
As a public health major at USD, you will gain the skills and competencies needed in public health to assess the health needs of various populations. You will learn to plan and evaluate programs, communicate and advocate for health promotion, and serve as a leader in your community. Teamwork and communication will be critical in your future career, and USD provides you with the ideal learning environment in which to develop these skills; in the School of Health Sciences, you'll study and practice alongside students from a variety of disciplines, which will prepare you to be an effective collaborator and leader. Paired with faculty mentorship and hands-on learning opportunities, these experiences will set you up for success in your future career.
The needs for a public health workforce continue to expand. You'll graduate well positioned to meet these needs, ready to work in any of the five general areas of public health: biostatistics, environmental health, epidemiology, health policy and management, and social and behavioral health.
Step toward a future of making a difference in the lives of others and advocating for community health as a public health major.
Degrees & Offerings
Public Health (B.S.)
Bachelor's
Vermillion Main Campus and Online
The B.S. in public health sets students up for success as a public health generalist to promote community health and well-being. Graduates work as public health practitioners in various settings, including community-based organizations, behavioral health agencies, government agencies, health centers and domestic or global non-profit organizations. Graduates are prepared to provide outreach for community health interventions, collect data, and develop and support community programs.
Public Health: Health Education (B.S.)
Bachelor's
Vermillion Main Campus and Online
Students can choose the health education specialization as part of the elective credit options for the B.S. in public health degree. By adding the health education specialization, students can expand their understanding of research, health promotion campaigns, and educational programming. The Health Education Specialization prepares students to lead public health interventions from the initial stage of needs assessment through quality assurance and implementation. Graduates with the B.S. in public health and health education specialization may be eligible to sit for the Certified Health Education Specialists (CHES®) exam.
Public Health
Minor
Vermillion Main Campus and Online
A minor in public health will help you expand your knowledge of health care and gain the skills needed to impact community health. Courses you will take include Introduction to Public Health, Introduction to Epidemiology, Global Health, and Communicable Diseases and Public Health, among others.
Program Details
Undergraduate
College
Department
Contact
Admissions
Known for Excellence
With qualities like small class sizes, specialized programs and incredible student opportunities, USD is not your typical university. What makes us unique is what makes your education exceptional.
USD offers hybrid public health programs, which are partly online and partly in Vermillion.
USD is home to the state's only comprehensive health sciences school and medical school.
STUDENT OPPORTUNITIES
As a student at USD, the opportunities available to you extend beyond the classroom. Explore your interests, find your community and experience your education to the fullest extent through the following opportunities.
The Department of Public Health and Health Sciences offers you many opportunities to get involved outside the classroom and serve your community. Groups like the South Dakota Community Action Response Epidemiology (CARE) team, which consist of faculty and students, have helped deliver comprehensive services and improve health outcomes for rural populations in the state during critical times of need.
At USD, you won't just learn how to make a difference tomorrow — you'll be a part of that change today.
Public health research is a rapidly expanding part of health care, and our students have the opportunity to develop research skills and knowledge while still in school. Through academic partnerships, our students work alongside research scientists in Sioux Falls who are researching a cure for Type 1 diabetes, the effectiveness of a medication at slowing the impact of Alzheimer's disease on memory and daily activities, human genetics and more.
Those who choose research as a career choice have numerous job opportunities, such as developing new or improving existing drugs, treatments or other medically related products. They may work in research centers, hospitals, universities and pharmaceutical companies in both the public and private sectors.
USD is home to more than 170 student organizations, including several that are housed in the Department of Public Health and Health Sciences. You may be interested in joining the Health Sciences Club or Sigma Delta Honor Society to make friends, develop new skills and explore your interests.
Departments & Facilities
Explore the departments, facilities and centers that contribute to your education in public health & health sciences.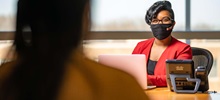 The Department of Public Health and Health Sciences emphasizes collaborative learning, equipping students with a rich understanding of the health care field and preparing them to excel in careers such as advocating for health policy, promoting health through education, managing health data analytics and leading collaborative health care teams. The department offers degrees at the associate, bachelor's, master's and doctorate levels.
Faculty & Staff
Get to know the faculty and staff in the Department of Public Health and Health Sciences. Our faculty are experts in their field, contributing research and scholarship in productive aging and gerontology, management of chronic disease, health and culture, attachment, Native American health and more.
See the Big Picture of Community Health
With the state's only comprehensive school of health sciences and medical school, USD offers a learning environment that mirrors the health care industry. As a public health student, you will learn with and from students enrolled in a variety of disciplines across the School of Health Sciences. You'll collaborate with future nurses, occupational therapists, social workers and many other practitioners. These experiences will better equip you to understand health from a variety of perspectives and see how your unique expertise can complement the work of other professionals.
Here, learning is collaborative, interactive and engaging.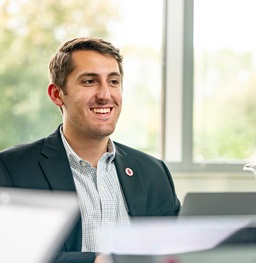 Learn in a State-of-the-Art Environment
The world of health care is expanding and changing each day. At USD, we believe your learning environment should be as innovative and dynamic as this rapidly-growing field.
In August of 2022, health sciences students began learning in the new School of Health Sciences building, which houses modern classrooms, innovative technology, simulation centers, study spaces, health science labs and more. At the
Center for Health Education
, you'll find exceptional opportunities, training and support that will propel you into your career as a health care professional and leader.
Tuition & Costs
USD offers low tuition rates for in-state and out-of-state students, as well as scholarships, financial aid and employment opportunities to help make your education even more affordable.

| | SD Residents, SD Advantage* & Child of Alumni | MN Residents | Out-of-State |
| --- | --- | --- | --- |
| Tuition (30 cr.) | | | |
| Fees (30 cr.) | | | |
| Books (estimate) | | | |
| Housing | | | |
| Food Service | | | |
| Total | | | |
* SD Advantage: The in-state rate is available to new undergraduate students who are residents of South Dakota, Colorado, Illinois (starting Summer 2023), Iowa, Montana, Nebraska, North Dakota, Wisconsin (starting Summer 2023), Wyoming and children of alumni of USD.
More About Tuition & Costs
This is an estimated annual cost. Other factors may change the cost of tuition.
Learn more about tuition and fees for undergraduate students and see how your out-of-pocket costs at USD compare to those at other colleges and universities.
Navigating options for how to pay for college can be challenging, but you are not alone. The Office of Financial Aid will work with you and your family to explore how you can make your college education even more affordable.
USD awards nearly $9.5 million in scholarships each year. View our scholarships to see which ones you may qualify for and how you can apply.