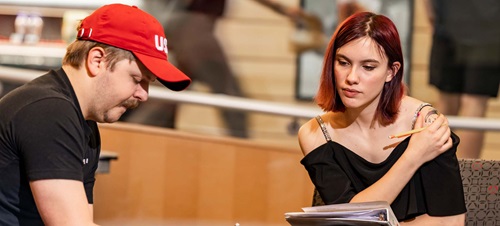 Scholarships
USD awards nearly $9.5 million in scholarships each year. See what scholarships you may be eligible for and how to apply.
Scholarships are a form of gift aid that does not need to be repaid. Scholarships are considered part of your financial aid package, and they may replace some or all of your financial aid eligibility.
Scholarships may be awarded for academic excellence, to recognize and encourage development in a particular field of study or for extraordinary artistic or athletic talent. The aid may be provided by the University, the USD Foundation, generous private donors or other sources. All USD scholarships and awards are subject to the university's Scholarship & Award Policy.
All Prospective Students
All prospective students may apply for scholarships using the online academic scholarship application. The academic scholarship application is generally available in the fall of each year with a priority deadline of November 15, and the final deadline for submitting the application is December 1.
By submitting the online scholarship application, you are automatically considered for all academic scholarships that match your qualifications.
As a reminder, you must first apply for admission and be accepted to USD before you can apply for scholarships.
Additional Scholarship Details & Opportunities
Explore the scholarship details below for information about scholarships you may be eligible for.
Outside Scholarships
There are many outside scholarships you can consider as you make a plan to pay for your education. Here are a few additional scholarship opportunities available through federal, state and other sources.
The South Dakota Opportunity Scholarship provides up to $6,500 over four years to a qualifying student who attends an eligible higher education institution in South Dakota.
The South Dakota Freedom Scholarship is available to a limited number of South Dakota resident students with unmet financial need. Recipients of the scholarship must commit in writing to live and work in South Dakota for three years after graduation. Visit the South Dakota Freedom Scholarship website for a full listing of eligibility requirements.
Learn More
Deadline: March 1 for freshmen
This scholarship is awarded to graduates of Stickney, Plankinton or White Lake high schools. This year's application deadline has passed; the scholarship application for next year will be available at a later date.
(25 awards at $10,000 each)
Application Dates: August 1 through October 25 and January 15 through March 15
The Horatio Alger Denny Sanford Scholarship provides a $10,000 scholarship to be disbursed throughout a student's collegiate career. Like all Horatio Alger Scholarships, the Horatio Alger Denny Sanford scholarship assists high school students who have faced great obstacles in their young lives to overcome their adversities, attend a post-secondary institution and achieve success.
To be eligible for the Horatio Alger Denny Sanford Scholarship a student must meet the following criteria:
Be committed to complete a bachelor's degree at University of South Dakota
Be a current high school senior with plans to enroll in college Fall 2021
Demonstrate critical financial need ($55,000 or less family income required)
Be involved in community service activities
Display integrity and perseverance in overcoming adversity
Maintain a minimum grade point average (GPA) of 2.5
Be a United States citizen
Listed here are over 40 different scholarship opportunities available for graduate students at University of South Dakota. For more details, including deadlines, click the links below.
| DEPARTMENT/FOUNDATION | TITLE | ACADEMIC FIELD(S) | COHORTS(S) |
| --- | --- | --- | --- |
| AACAP | Jeanne Spurlock Research Fellowship in Substance Abuse and Addiction for Minority Medical Students | Substance abuse | Minority students |
| AAR | American Academy in Rome Fellowships | Arts, music, humanities, etc. | General |
| AAUW | American Association of University Women Educational Funding and Awards | General | Women |
| ACLS | American Council of Learned Societies Fellowships | Arts, humanities, social science, etc. | General |
| AERA | American Educational Research Association Fellowships | Education (policy) | General |
| AHA | American Heart Association Fellowships | Biomedical science (cardiovascular/stroke) | General |
| ALA | American Lung Association Fellowships | Biomedical science, social/behavioral science (lung disease) | General |
| American Philosophical Society | John Hope Franklin Dissertation Fellowship | General | Minority students; doctoral students |
| APHL | Association of Public Health Laboratories Fellowships | Health (public health) | General |
| APSA | American Political Science Association Graduate Fellowships for Minority Students | Political science | Minority students; doctoral students |
| ARCE | American Research Center in Egypt Fellowships | Humanities, social science (relevant to Egypt) | General |
| BosterBio Scholarships | Boster Bio Young Scientists Scholarship | Biology/Biomedical science | General |
| DAAD | Germany Academic Exchange Service for Study in Germany | Arts, music, humanities, STEM, etc. | General |
| Dept. of Commerce | Graduate Student Measurement Science and Engineering Fellowship Program | STEM | Doctoral students |
| Dept. of Defense | National Defense Education Program's SMART Scholarship | STEM | General |
| Dept. of Defense | National Defense Science and Engineering Graduate Fellowship | STEM | General |
| Dept. of Energy | Computational Science Graduate Fellowship (CSGF) Program | Computer science | General |
| Dept. of Energy | Graduate Student Research (SCGSR) Program | STEM | Doctoral students |
| Dept. of Health and Human Services | AHRQ Grants for Health Services Research Dissertation Program (R36) | Health (policy/delivery) | Doctoral students |
| Dept. of Health and Human Services | Dr. James A. Ferguson Emerging Infectious Diseases Fellowship Program (CDC) | Health | Minority students |
| Dept. of Health and Human Services | NIH/NIDA Drug Abuse Dissertation Research (R36) | Health (substance abuse) | Doctoral students |
| Dept. of Justice | NIJ Graduate Research Fellowship (GRF) | STEM; social science; psychology | Doctoral students |
| Dumbarton Oaks | Dumbarton Oaks Short-Term Pre-Doctoral Residencies | Humanities (relevant to Dumbarton focus areas) | Doctoral students |
| Environmental Protection Agency | STAR Fellowship | STEM (environmental-related) | General |
| Ford Foundation | Ford Foundation Fellowships | General | General; somewhat minority focused |
| Foundation for Physical Therapy | Foundation for Physical Therapy Fellowships | Physical therapy | General |
| GEM | National Consortium for Graduate Degrees for Minorities in Engineering and Science | STEM | General |
| Google | Google Anita Borg Memorial Scholarship | Computer science | Women |
| ICDD | Ludo Frevel Crystallography Scholarships | Chemistry | General |
| James Madison Memorial Fellowship Foundation | James Madison Memorial Fellowship | Political science (secondary teaching) | General |
| JSPS | Japan Society for the Promotion of Science Fellowship Program | STEM | Doctoral students |
| Learn How to Become | Women's Scholarship Search | Women | General |
| Mellon Foundation | Mellon International Dissertation Research Fellowship (IDRF) | Humanities, social science | Doctoral students |
| Microsoft | Microsoft Fellowships | Computer science | Minority students |
| NAADAC | Minority Fellowship Program for Addictions Counselors (NITT-MFP-AC) | Addiction Studies | General |
| NAADAC | William White Scholarship Award | Addiction Studies | General |
| National Academies of Sciences, Engineering, and Medicine | NRC Research Associateship Programs | STEM | Doctoral students |
| NASW | Consuelo W. Gosnell Memorial MSW Scholarship | Social Work | Minority students |
| NASW | Verne LaMarr Lyons Memorial MSW Scholarship | Social Work | Minority students |
| National Aeronautics and Space Administration | Education Aeronautics Scholarship and Advanced STEM Training and Research (AS&ASTAR) Fellowship Activity | STEM | General |
| National Aeronautics and Space Administration | NASA Space Technology Research Fellowship (NSTRF) | STEM | General |
| National Science Foundation | Doctoral Dissertation Improvement Grants in the Directorate for Biological Sciences (DDIG) | Biology | Doctoral students |
| National Science Foundation | East Asia and Pacific Summer Institutes (EAPSI) | STEM | General |
| National Science Foundation | Graduate Research Fellowship Program (GRFP) | STEM | General |
| NPSC | National Physical Science Consortium Graduate Fellowships in the Physical Sciences | STEM | General; somewhat minority focused |
| NSEP | David L. Boren Graduate Fellowship | Political science, etc. (must be related to national security) | General |
| ORNL | Oak Ridge National Laboratory Higher Education Research Experiences | STEM | General |
| Paul and Daisy Soros Foundation | Paul and Daisy Soros Fellowships for New Americans | General | New Americans |
| Rizio Lipinsky Law Scholarship | Rizio Lipinsky Lawyer Scholarship Fund | Law | Future or Current Law students |
| Smithsonian | Smithsonian Fellowships | General (esp. arts) | General |
| Spencer Foundation | Spencer Foundation Dissertation Fellowship Program | Education | Doctoral students |
| Thermo Fisher | Thermo Fisher Scientific Antibody Scholarship Program | Biomedical science, biology | General |
| U.S. Agency for International Development | Donald M. Payne International Development Fellowship Program | Public health, political science, etc. | Master's students |
| The Washington Center | Foreign Affairs Information Technology Fellowship | IT-related degree | General |
| WWNFF | Woodrow Wilson National Fellowship Foundation | Humanities, social science | General |