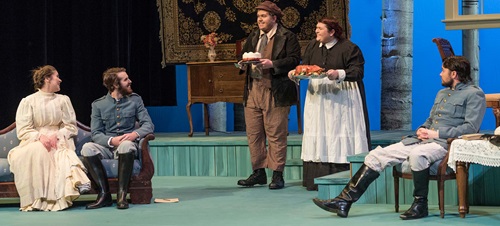 Theatre Studies
Attain a comprehensive theatre education so you can be successful in your career in directing, stage management, playwriting or pursuing a graduate degree in theatre.
Why Study Theatre Studies?
As a theatre studies major at USD, you will prepare to be a well-rounded theatre practitioner and scholar. Here, you will grow personally and creatively as you prepare to enter the theatre profession or further your education as a graduate student. Our program provides you with coursework and extracurricular activities where you will cover a broad range of theatre history, dramatic literature, performance, production techniques and practices, and theory.
Develop production techniques, prepare a role for performance and learn to analyze play scripts as a theatre studies major at USD.
Degrees & Offerings
Theatre: Theatre Studies (BFA)
Major with Specialization
This program of study is intended for students seeking a comprehensive theatre education. It is recommended for students wishing to emphasize in the areas of directing, stage management, playwriting, pursuing graduate study in theatre or for those who have not yet decided upon an area of specialization.
Program Details
Undergraduate
College
Department
Contact
Admissions
Departments & Facilities
Explore the departments, facilities and centers that contribute to your education.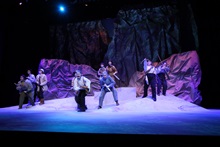 Whether you are interested in a career in acting, musical theatre, design technology or a related field, the real-world experiences and connections you find in the Department of Theatre will help you get there.
Faculty & Staff
Get to know the faculty and staff in the Department of Theatre. Our faculty are experts in their field, contributing research and fostering student engagement and leadership.
Chase Your Dream Career
Leading artists, artisans and technicians serve as guest artists for USD's Department of Theatre. From Tony Award-winning choreographers to master puppeteers to cutting-edge automation, we celebrate the amazing wealth of knowledge our fellow artists from across the country and around the world bring to Vermillion and our students.