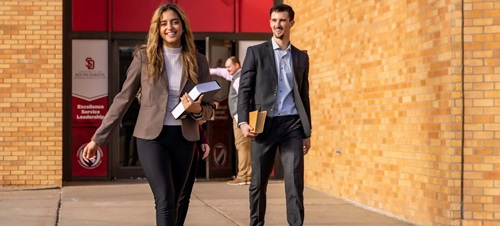 Early Law Interest
Get a head start on your path toward law school by participating in one of our unique programs for undergraduate students.
Start your path toward the legal profession today.
As a high school student or college student early in your undergraduate program, you may already know you want to go to law school. The USD Knudson School of Law offers unique programs that allow you to get a head start on this path toward your future.
Explore the programs below to find a path that works best for you. Whether you want to start law school early, pursue early admittance or take coursework that sets you up for success, you'll find an option that will help you achieve your goals.
USD 3+3 Fast Track
As an undergraduate student at USD begin law school as a senior and use the first year of law school to complete your bachelor's degree. The program allows you to graduate with both a bachelor's degree and Juris Doctor in six years rather than seven, saving you time and money. Eligible undergraduate programs are those which have entered into an approved 3+3 arrangement with the Knudson School of Law.
Law Honors Scholars
The Law Honors Scholars program allows high school seniors to be guaranteed admission to the USD Knudson School of Law if they apply for and participate in the Honors Program while pursuing their undergraduate degree at USD. If you're a high school student already planning on going to law school, the program can offer you a jump-start on your future career.
Pre-Law
If you are an undergraduate student and want to set yourself up for law school applications, you can take pre-law coursework as a part of your undergraduate education. This is a career-interest path, not a degree program, so it will not result in a degree in law. Rather, it will offer a recommended curriculum to help you prepare for law school.