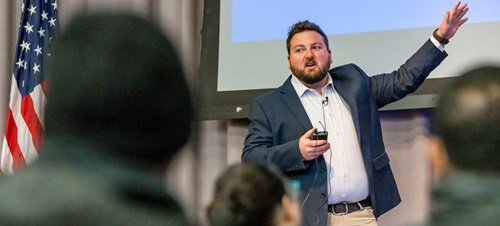 Three Minute Thesis (3MT®)
An 80,000 word thesis would take over 9 hours to present...you get 3 minutes!
Showcase Your Research
Do you want to compete for cash prizes and the opportunity to participate in the Midwestern Association of Graduate Schools (MAGS) 3MT competition at their spring annual meeting?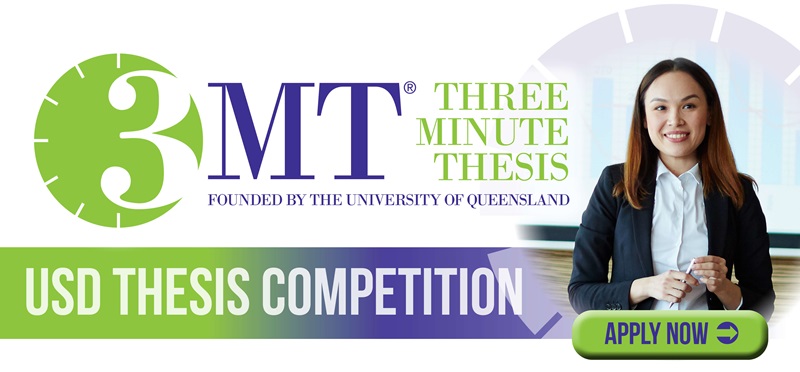 Can you explain your research in three minutes?
The USD Three Minute Thesis (3MT®) competition celebrates research being done by students at the University of South Dakota. The Graduate School hosts the annual 3MT competition and provides graduate students with an opportunity to communicate the significance and impact of their research project to a non-specialized audience in just three minutes with only one PowerPoint slide. The Three Minute Thesis (3MT®) is an academic research communication competition developed by The University of Queensland (UQ), Australia.
Eligibility:
You must be actively enrolled in a Master's (Thesis option A) or Ph.D. program and in good academic standing.
Graduate students who have started their research or creative scholarship project and have gathered preliminary data, and findings are also eligible to participate. It is not necessary for a thesis project to be fully completed to participate in this competition.
You must be available to present in person at the 3MT® preliminary round and the final competitions.
To Apply:
Complete the USD 3MT® Application Form by February 13, 2023 at 11:59 p.m.
Competition Details
Information Session: February 8, 2023
Venue: Ballroom 225BC & Zoom
Time: 3-5 p.m.

Preliminary Round: February 15, 2023
Venue: MUC Ballroom 225BC
Time: 3-5 p.m.
Selected top students will advance to the finals.
Livestream link: https://www.facebook.com/USDGradSchool/
Finals: March 1, 2023
Venue: Al Neuharth Freedom Forum
Time: 3-5 p.m.
Livestream Link: https://www.facebook.com/USDGradSchool/
Competition Rules
A single static PowerPoint slide is permitted (no slide transitions, animations or 'movement' of any description, the slide is to be presented from the beginning of the oration).
No additional electronic media (e.g. sound and video files) are permitted.
No additional props (e.g. costumes, musical instruments, laboratory equipment, laser pointer ) are permitted.
Presentations are limited to 3 minutes maximum and competitors exceeding 3 minutes are disqualified.
Presentations are to be spoken word (e.g. no poems, raps, or songs).
Presentations are to commence from the stage.
Presentations are considered to have commenced when a presenter starts their presentation through movement or speech.
The decision of the adjudicating panel is final.
Prizes
The first-place winner will be awarded $350 and will participate in the Midwestern Association of Graduate Schools (MAGS) 3MT® competition at the spring annual meeting in Chicago, IL on March 31, 2023.
The second-placed student will be awarded $250.
The third-placed student will be awarded $150.
Questions?
For more information, contact the Graduate School at 605-658-6173 or by email at grad@usd.edu.