Graduate School Orientation
Welcome to the USD Graduate School!
USD Graduate Orientation Series
We are thrilled you have joined the Coyote family. A first step to success is making sure you know where to find your resources.
The Graduate School has compiled a series of online orientation materials to assist in your transition to or continuation in graduate education at USD. Please complete the self-paced online orientation before you begin classes and refer back to these resources at any time throughout your time at USD.
If you have questions about graduate orientation, your class schedule or what your next steps should be before starting the semester, be sure to reach out to the team in the Graduate School. Stop in and see us in Slagle Hall 304, call 605-658-6173 or email us at grad@usd.edu.
Select Your Orientation Path
Depending on if you are a new student, just received your first graduate assistantship or are a returning graduate teaching assistant, you may need to review and submit documentation before the start of the semester. The Graduate Student Orientation Series will provide valuable resources for your success. Please watch the following videos from the appropriate options below.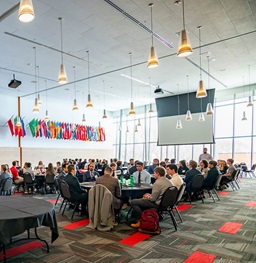 New Graduate Students Should RSVP to the Welcome Lunch and Resource Fair
All new graduate students are invited to attend the upcoming new graduate student welcome lunch and resource fair.

Friday, August 18, 2023

11:30 a.m. - 1:00 p.m. - Resource Fair
12:00 p.m. - Welcome Lunch
 RSVP by August 4th
Get Involved with the Community in Vermillion
From finding housing to getting involved with young professionals in the Vermillion area, the Vermillion Chamber and Development Company (VCDC) is a great resource to:
Meet other community members
Find things to do and access local maps
Research housing and find relocation information
Join Vermillion NEXT - a young professionals network
Get discount on VCDC sponsored events and more...


Learn More
MEET OUR TEAM
We know navigating graduate school can be a detailed process. If you have questions, we are here to help you every step of the way. Our dedicated team will be able to address questions or concerns that you may have about the policies, assistantships, graduation and more.