ABA President-Elect Mary Smith Sat Down with Dean Neil Fulton for 2023 Gunderson Lecture
Earlier last month, the University of South Dakota Knudson School of Law hosted the 2023 Gunderson Lecture featuring Mary Smith, J.D., president-elect of the American Bar Association, as the honored guest lecturer. Knudson School of Law Dean Neil Fulton, J.D., sat in the lecture to present questions to Smith.
During the lecture, Fulton asked Smith a series of questions about her past engagement with public policy and civil rights legislation – especially in women's policy and Native American policy. Smith also spoke about her reasons for going to law school, mentioning that she earned an undergraduate degree in math and computer science and enjoyed writing and speaking. She decided to attend law school because she saw an opportunity to use all of her passions to help people.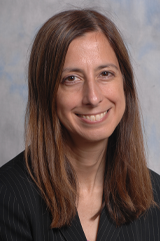 Smith is the first Native American woman to hold the role of president-elect for the American Bar Association. Currently, she serves on the board of PTC Therapeutics, Inc., a global biopharmaceutical company, and on the board of the HAI Group, a leading member-owned insurance company for the affordable housing industry. She is also vice chair of the VENG Group, a national consulting firm. Her previous practices include the private sector and serving at the highest levels of government, both at the federal and state level.
The Gunderson Lecture is the law school's pre-eminent lecture serving as a memorial to Clark Y. Gunderson. A native of Vermillion, South Dakota, Gunderson devoted his life to legal education and public service. He graduated from USD in 1931, attended the USD School of Law in 1932 and accepted a professorship with the law school in 1934. Gunderson temporarily left the law school in 1941 for military duty. He returned in 1946 and taught until his death in 1964. During his 30-year law school tenure, Gunderson maintained a specialty in commercial law.
Earlier this month, the University of South Dakota Knudson School of Law participated in the third annual Sioux City Night, a networking event hosted by Crary Huff Law Firm of Sioux City, Iowa, that seeks to connect students to the city's legal community.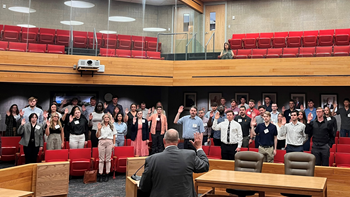 The University of South Dakota Knudson School of Law welcomed 90 students into the Class of 2026. The last time the law school had a class this large was in 2011, when it also had 90 first-year students.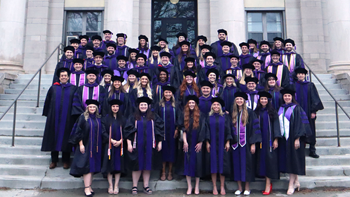 The University of South Dakota Knudson School of Law celebrated the class of 2023 at the Hooding Ceremony in Aalfs Auditorium on May 5.