USD Law Trial Advocacy Team Featured on Documentary Series Podcast
The University of South Dakota Knudson School of Law Trial Advocacy team and assistant professor Laura Rose, J.D., are featured guests on a podcast documentary series about the next generation of lawyers.
Class Action is a 12-part podcast documentary series that tracks a cast of law students who competed in mock trial competitions across the country.
Rose was introduced to the Class Action crew in 2020. "Through various recommendations from several big names in the community, in particular, Adam Shlahet, who runs Fordham University's advocacy program, the producers of Class Action were sent to USD and our team," she said.
The crew came to USD in the fall of 2021 during the Trial Advocacy team's boot camp. They followed various teams and students throughout preparations, competitions and in their work outside of the law school.
"This experience was a phenomenal opportunity for our trial team members to show how through preparing and participating in these competitions our advocates embody excellence, service and leadership," Rose said. "It pushed our work ethic to new heights and was a wonderful learning experience for those involved."
William Murray '22, a McCook Lake, South Dakota, native, is one of the students and trial team members featured in the podcast.
"I hope the podcast captures the effort and emotion behind the pilgrimage that this program," Murray said. "USD's Trial Team has established a systematic approach to trial preparation that allows us to develop a command of the rules of evidence and how they apply to the facts of the case. My teammates have demonstrated a track record of being practice ready upon graduation and having trial skills comparable to second- and third-year associates. I hope this is what makes our team stand out on the podcast."
According to producers Lisa Gray and Kevin Huffman, mock trial tournaments are becoming a necessary and exciting collegiate sport. "Young lawyers are poised to enter a justice system that is under intense public scrutiny," they said. "And jury trials—a bedrock of a fair justice system—are declining in number. But in the wake of high-profile verdicts like the George Floyd case, trial advocacy training is gaining popularity in law schools."
In addition to the USD Knudson School of Law team, Class Action followed teams from Brooklyn Law and St. Mary's University in San Antonio. Katie S. Phang, host of The Katie Phang Show on MSNBC, serves as host.
The first two episodes are scheduled to drop on June 7 on iHeart, Apple and other major platforms. Class Action is a production of Sound Argument and iHeart Media. Follow the podcast on Twitter at ClassActionPod.
The USD Knudson School of Law is proud to announce that Professor Laura Rose, J.D., has been named the Heidepriem Trial Advocacy Fellow, succeeding Professor Thomas Horton.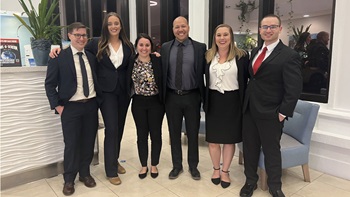 The University of South Dakota Knudson School of Law trial teams are competing in three national tournaments this fall. The spread of competition ranges from New York to Georgia.