Child and Adult Advocacy Studies
Through the child and adult advocacy studies graduate certificate, you'll focus on ethical, realistic and culturally relevant information as you learn efficient, evidence-based methods for preventing and responding to maltreatment.
Build Community, Create Change
Many professionals or mandated reporters who work with vulnerable populations are inadequately trained in recognizing and addressing maltreatment. Judges, prosecutors, child protection attorneys, doctors, nurses, psychologists, social workers, law enforcement officers, clergy, teachers, child protection professionals and others can better serve their communities through education on child and adult advocacy.
As a student pursuing a graduate certificate in child and adult advocacy studies at USD, you will gain a foundation for responding to maltreatment. You will learn about the various responses to maltreatment and develop a multidisciplinary understanding of the most efficient responses. After completing the courses in this certificate, you will be better equipped to be an advocate on behalf of victims and survivors of maltreatment and fulfill the advocacy responsibilities required by your line of work.
Degrees & Offerings
Child & Adult Advocacy Studies
Certificate
Through the online graduate certificate in child and adult advocacy studies, you'll gain knowledge and develop skills related to advocacy on behalf of victims and survivors of maltreatment. This certificate is a great complement to a wide range of careers and educational backgrounds related to children, families and public service, including those in social work, nursing, counseling and psychology, criminal justice, education, law and others. Program requires an in-person practicum as part of the curriculum.
Program Details
Graduate
College
Department
Contact
Graduate Admissions
Known for Excellence
With qualities like small class sizes, specialized programs and incredible student opportunities, USD is not your typical university. What makes us unique is what makes your education exceptional.
This certificate is offered online for flexibility and includes a practicum for hands-on experience.
With the state's only comprehensive health sciences school and medical school, USD is the region's leading institution for health care education.
Departments & Facilities
Explore the departments, facilities and centers that contribute to your education in public health & health sciences.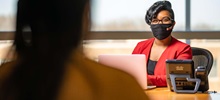 The Department of Public Health and Health Sciences emphasizes collaborative learning, equipping students with a rich understanding of the health care field and preparing them to excel in careers such as advocating for health policy, promoting health through education, managing health data analytics and leading collaborative health care teams. The department offers degrees at the associate, bachelor's, master's and doctorate levels.
Faculty & Staff
Get to know the faculty and staff in the Department of Public Health and Health Sciences. Our faculty are experts in their field, contributing research and scholarship in productive aging and gerontology, management of chronic disease, health and culture, attachment, Native American health and more.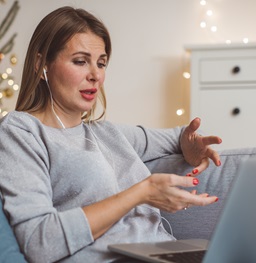 Take Your Classes Online
We're committed to bringing our knowledge to you. USD serves the largest number of online students in the state of South Dakota. With competitive online tuition rates, we offer the same price whether you're out-of-state or an in-state resident.
USD maintains a challenging and rigorous curriculum focused on preparing you to move forward in your career.
Enroll in an online class today!
View all online programs
Surprisingly Affordable
Whether you've recently completed your undergraduate degree, or you want to kick your career up a notch, graduate school is the next logical step. The good news is there is funding for both online and on-campus students to get you through your program.
| | GA (Resident*) | Resident | Online | Non-Resident |
| --- | --- | --- | --- | --- |
| Tuition (1 cr.) | | | | |
| GAF Fee (1 cr.) | | | | |
| Total | | | | |
More About Tuition & Fees
Tuition rates are subject to change and may vary depending on the program or department. Visit the Graduate Tuition & Costs page for more information.
* Graduate Assistant (GA) rates are available for resident, non-resident and online students.
** Resident rates may be available to you through the SD Advantage, Child of Alumni or Western Regional Graduate Program. To see if you quality, visit usd.edu/grad-tuition.