Center for Teaching & Learning
Office
The Center for Teaching & Learning develops and supports opportunities for student success by cultivating a welcoming educational community dedicated to excellent teaching and an improved student learning environment, regardless of location or modality.
Center for Teaching & Learning
Center for Continuing Education 101
414 E. Clark St.
Vermillion, SD 57069
Office Hours
Monday - Friday
8:00 a.m. - 5:00 p.m.
The CTL operates during standard university business hours: 8:00 AM CT - 5:00 PM CT. Support is available during these hours via Zoom Chat*, email (ctl@usd.edu), phone (605-658-6774), or by stopping in (Continuing Education Building 101). Please visit the CTL Resources Website for more details on services the CTL provides.
If you need assistance, please submit a CTL Service Request online or contact the CTL directly. While we try to answer all support requests as quickly as we can, requests sent directly to CTL staff personal email addresses may not be answered as quickly.
If you are experiencing a technical issue—not an instructional/how-to issue—or need after-hours support, please contact the ITS Service Desk, which is available 24/7/365.
During semester startup, CTL staff will monitor the CTL email account during off-business hours. Please understand that the CTL staff will use their discretion when it comes to responding outside of normal business hours, but we will endeavor to respond to all emails before the close of the next business day.
*Please note: Users must be logged into their USD accounts in order to get into our support channel.
CTL Workshops
To register for a CTL workshop, email the CTL at ctl@usd.edu. Include the following information in the email:
Name of workshop
Date and time of workshop
Whether you plan to attend online or in person
Teaching & Learning Resources
The Center for Teaching and Learning provides workshops, fellowships, grants, consultations, and more.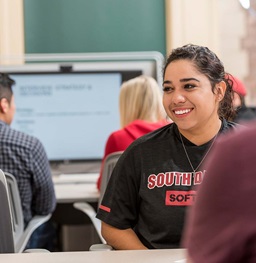 Testing Center
The Testing Center at the University of South Dakota promotes student success and academic integrity with the operation of a secure, testing facility which provides services to on-campus, distance students and our surrounding communities.
Learn More
Quality Assurance Process
The Center for Teaching & Learning (CTL)—in close coordination and collaboration with Continuing and Distance Education (CDE)—oversees the Board of Regents (BOR) online QA and readiness process for all distance courses at USD. We take a proactive readiness approach to ensure the successful design and delivery of our online courses. Please contact qa@usd.edu with any questions.