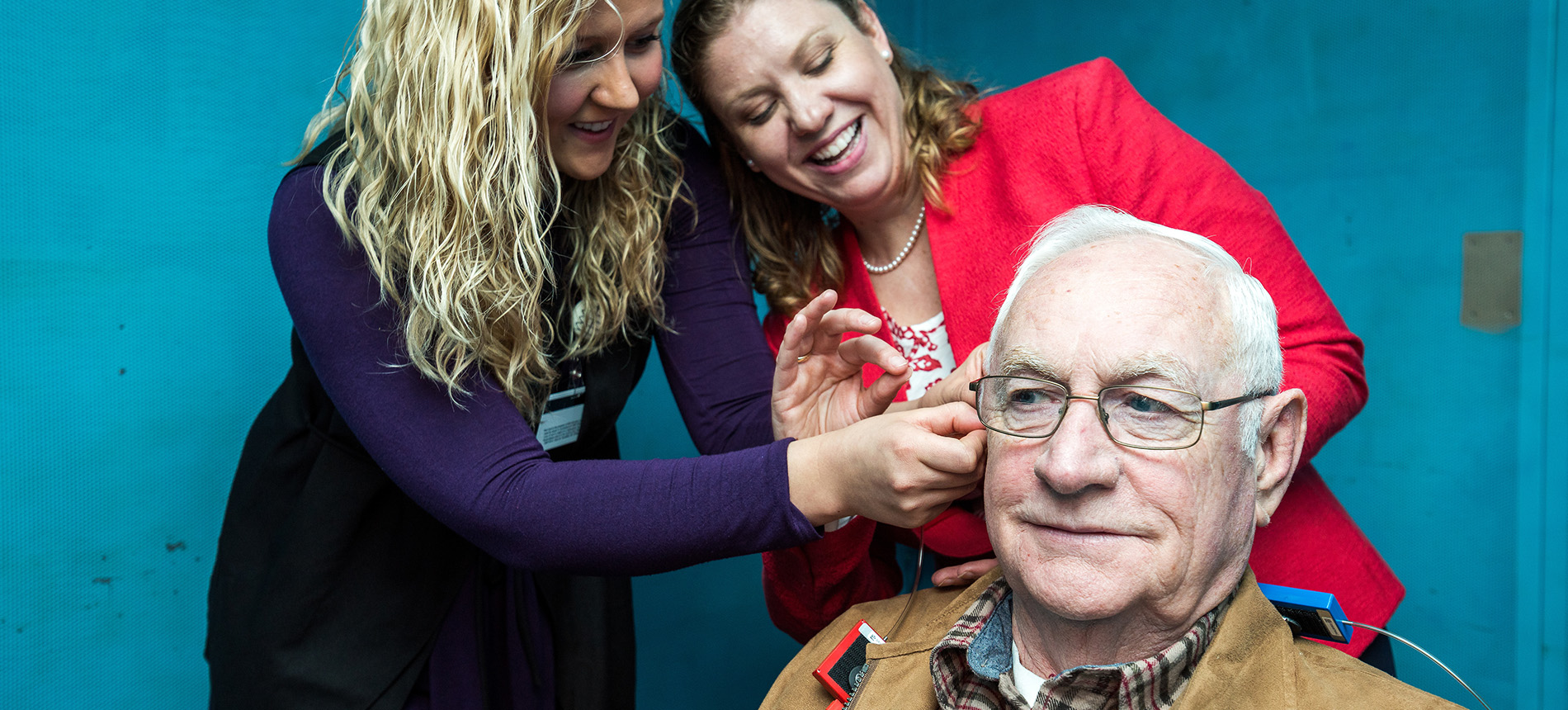 USD Speech, Language and Hearing Clinic
Center/Institute
At the USD audiology clinic, we know that a full evaluation of your hearing includes responses to tones, speech and assessment of other hearing complaints. We work with you to assess your hearing and discuss your hearing difficulties. We complete comprehensive evaluations for all ages, pediatric to aging adults and all stages of cognitive abilities.
USD Speech, Language and Hearing Clinic
414 E Clark St.
Clinic is in McKusick Technology Center
Vermillion, SD 57069
Office Hours
Monday - Friday
8:00 a.m. - 5:00 p.m.
Good faith cost estimate available upon request.

The USD Speech, Language and Hearing Clinic is one of two sites that make up the USD Scottish Rite Speech Language and Hearing Clinic, which offers evaluation, treatment and consultation services for children and adults with speech, language, hearing and related communication needs. Our clinics are primarily a training facility for the Department of Communication Sciences and Disorders. Our graduate students provide individualized services under the guidance and supervision of state-licensed and nationally certified speech-language pathologists and audiologists.
No client shall be discriminated against based upon race or ethnicity, religion, age, gender, disability, sexual orientation or ability to pay. We bill Medicaid, Medicare and most insurances. As a patient/client at the USDSHC, you have certain rights and responsibilities. The services we provide are consistent with the American Speech Language and Hearing Association Code of Ethics. We adhere to HIPAA regulations, and we ensure clients their Health Information is protected.
Scottish Rite is an appendant body of Freemasonry. The major philanthropy of Scottish Rite is support for speech, language and hearing services for children with the idea that no child will go unserved due to inability to pay.
Services at the
Vermillion Clinic
Located on the Vermillion campus, the USD Speech, Language and Hearing Clinic offers comprehensive services.

Comprehensive Diagnostic Evaluation
At the USD audiology clinic, we know that a full evaluation of your hearing includes responses to tones, speech and assessment of other hearing complaints. We work with you to assess your hearing and discuss your hearing difficulties. We complete comprehensive evaluations for all ages, pediatric to aging adults and all stages of cognitive abilities. We follow AAA and ASHA best practices.
Pediatric
We are a diagnostic pediatric audiology center. We have the equipment, knowledge and expertise to perform diagnostic evaluations in accordance with JCIH recommendations.
Adult
Adults of all ages are welcome at our clinic. We have experience working with adults of all ages. Our experience and knowledge ensures that each patient feels as though they are part of the evaluation and treatment process. We work with you to ensure that your needs are met in a professional and comprehensive manner.
Electrophysiologic
In some situations, a non-invasive objective measure of hearing is needed. We are able to perform tests that do not require responses from patients to determine the way the brain is responding to sounds. We do this without the use of sedation. This testing can be completed in newborn babies to aging adults and can provide more information about the interaction between the auditory system and the brain.
Central Auditory Processing Disorder
Central auditory processing disorders (CAPD) occur when the brain pathways do not accurately process what is being heard. This can lead to a variety of listening, learning and communication difficulties. Our clinic is one of a handful of clinics in the country to provide comprehensive behavioral and electrophysiologic central auditory processing evaluations.
Cochlear Implant
A cochlear implant is a small electronic device that can improve the hearing of individuals with hearing loss due to damage of the sensory cells in the inner ear (cochlea) and do not receive sufficient benefit from hearing aids.
A cochlear implant is composed of a sound processor worn externally and a receiver that is placed under the skin into the inner ear via a surgical procedure. The sound processor captures sound in the world around you and sends it to the internal receiver where it is converted to electricity and delivered through wires to the inner ear, activating the hearing nerve which conveys the signal to the brain where it is heard as sound.
The benefit an individual receives from a cochlear implant is variable but improves with time and training to learn the new sound from the implant. Despite the variability in the success people receive, most people with a cochlear implant report that their implant helps them to hear and communicate better than they did before receiving a one.
The team at the USD Cochlear Implant Center brings significant knowledge and experience to help you achieve your hearing potential with your cochlear implant. We provide the latest implantable technologies and strive to ensure that your experience with the implant process is as clear, concise and easy to navigate as possible. Although we do not have an on-site surgeon, we work with all cochlear implant surgery centers in the area and surrounding states to identify the surgical site most appropriate for you. Upon receiving surgery, follow-up programming of your device is performed at the USD Speech, Language and Hearing Clinic or at one of our outreach locations.
At the USD Cochlear Implant Center, we provide services at the USD Speech, Language and Hearing Clinic in Vermillion, SD, and at outreach locations through a cooperative arrangement with the South Dakota School for the Deaf. Our largest outreach clinic is held twice per year in the Rapid City area where we work with children with hearing loss and hearing concerns across multiple days to ensure that all families and children receive quality care regardless of their ability to travel long distances.
Hearing Aids
People with hearing loss often don't notice they are missing out on life. Hearing aids can improve your ability to communicate with your friends and family. Modern hearing aids are small, discreet and can be connected to a variety of additional devices to assist you in better hearing. We provide the highest level of service to our patients and select the product with you that will meet your needs.
The team of audiologists at the USD Speech, Language and Hearing Clinic follow all best practice guidelines recommended by our certification bodies (ASHA and AAA).
Tinnitus
Tinnitus (ringing in the ears) is something everyone occasionally experiences; however, for some it can be debilitating. Our clinic provides rehabilitation services for individuals who suffer tinnitus.
Good faith cost estimate available upon request.
Diagnostic Evaluation and treatment are provided all of the following:
Child Speech Sound Disorders
Most children make some mistakes as they learn to say new words. A speech sound disorder occurs when mistakes continue past a certain age when the child should make the sound correctly. Speech sound disorders include problems with articulation (making sounds) and phonological processes (sound patterns).

Child Language Disorders
A language disorder occurs when a child has difficulty understanding others (receptive language), or sharing thoughts, ideas and feelings completely (expressive language).

Autism/Social Language Disorders
Autism is a developmental disability. Children with autism, also known as autism spectrum disorder or ASD, have social, communication and language problems.

Child and adult fluency disorders
Child and adult voice disorders
Acquired Disorders of Language and cognition (aphasia, TBI, Rt Hem damage)
Motor Speech Disorders (ALS, Parkinson's, Stroke)
LSVT LOUD® therapy provided by a certified speech-language pathologist.

Cleft palate and Craniofacial anomalies
Accent modification
Accent modification is individualized therapy designed to increase speech intelligibility for individuals with nonstandard American English dialects and accents related to primary languages other than English.

Augmentative and Alternative Communication (AAC)
Consultation, evaluation and treatment for high-tech and low-tech augmentative and alternative communication needs, including alternative access methods and AAC language therapy.
From Cherry Street (Highway 50):
Turn south on Pine Street at Burger King. Campus will be on the west (right) side of the street.
Just past Burgess/Norton Hall (two-and-a-half blocks), there is a parking lot entrance. Follow this entrance to the west end of the parking lot.
Park in the visitor parking if available. If not available, park anywhere else in the lot (except in accessible parking, unless you have a permit). We are in the gray building with the red awning on the south side of the parking lot.