Incoming Students
Applicants are required to submit a portfolio of original artwork. Incoming art majors' portfolios double as scholarship portfolios, and scholarships are offered based on excellence in artistic merit and/or academic success. The portfolio reviews allow prospective students and university art faculty members to discuss the direction of student work and evaluate applicants for scholarship purposes and program placement. Submissions of portfolio and scholarship forms are due by March 1 annually.
Apply
All applicants must submit the following materials for review:
Personal statement outlining the art activities, clubs, exhibits, awards, etc., you have participated in within the past three years and a statement addressing the following questions:

Why would you like to join USD's Department of Art program?
Describe your goals and ambitions?

Current high school transcript
Portfolio of artwork containing at least 15 pieces. Portfolios should demonstrate:
Creativity - artwork demonstrates a clear concept and originality
Design skills - student shows development of the composition
Craftsmanship - artwork presents skillful craftsmanship and tool control in handling the materials
Professionalism - student arranged and displayed their work in an appropriate/ professional manner
Observational skills - five drawings from life/still life that reveal value and proportional understanding
Current Students
There are several scholarships available to returning art majors. The merit awards are determined on a competitive basis and require the submission of a digital art portfolio and written statement. All full-time art majors enrolled at USD during the academic year continuing to the next academic year are eligible. Submissions of portfolio and scholarship forms are due by March 1 annually.
Applicants are required to turn in the following materials for review:
A digital art portfolio (10 images on a USB Drive in .JPG format). Label the USB Drive with student's name and all images on the USB Drive must be listed with artist's name, title of each piece and media and dimensions (on the scholarship form). All works must have been completed within the last year.
Complete the returning student scholarship application form.
A one-page, typed statement addressing:
What are your career objectives
What are your needs for the scholarship




Departments & Facilities
Explore the departments, facilities and centers that contribute to your education in the only College of Fine Art in the state.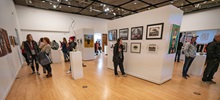 The Department of Art will provide you with unique and applicable real-world experience and connections that enable you to immerse yourself in an environment built for personal and creative discovery.