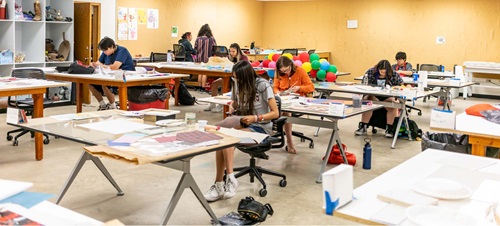 Oscar Howe Summer Art Institute
Students connect with faculty, create professional contacts and build life long friendships with other artists.

Building Community
Oscar Howe's artwork is a treasure and the University of South Dakota is pleased to have the opportunity to share his work with the next generation of artists during the Oscar Howe Summer Art Institute (OHSAI). The OHSAI is open to high school students with a demonstrated interest in the visual arts and American Indian culture. All courses are taught by impressive professional artists and all accepted students attend free of charge, including meals, housing, instruction and art supplies.
History
The OHSAI honors Oscar Howe, longtime USD professor and American Indian Northern Plains artist, by helping educate the next generation of potential Native American artists. Howe established a summer art institute in the 1960s, which provided instruction to avid students desiring to learn more about Native American art. Although this institute only lasted a few years, the spirit inspired the current form of the OHSAI. To date, the institute has supported many students who have gone on to become professional artists.

View the Oscar Howe Gallery
Contact
For questions or more information, contact the Chair of the Art Department, Cory Knedler at (605) 658-3456, or at Cory.Knedler@usd.edu.
Learn more about the
Oscar Howe Summer Art Institute
Students connect with faculty, create professional contacts and build life long friendships with other artists.
High school students in grades 10-12
A demonstrated talent in the visual arts and strong interest in Indian culture


Participants are selected based upon an application, at least one letter of reference and a portfolio of their artwork. Special attention is given to applications from Native American students.
Community is a big part of the OHSAI, offering students both professional contacts and long time friendships. Enrollment in the institute is limited to 20 high school students, who participate in drawing, painting, printmaking, photography, cultural studies and art history classes.
Students work with professional Northern Plains artists and instructors who provide cultural insight to the importance of the visual arts, such as:
Don Montileaux
Roger Broer
Bunky Echo-Hawk
Marwin Begaye


These classes make up the basis of the institute, and students are afforded several hours each day to concentrate on their own assignments and explore the specified media and subject matter. Participants also work together on group projects such as murals, limited edition prints and posters.
Students work in the professional art studios of the Warren M. Lee Center for the Fine Arts. Students have access to art department equipment and a wide variety of art materials as well as the other resources of a major university. In addition, institute participants enjoy field trips to area museums and cultural facilities.
For many students, the OHSAI is a life‐changing event. It is their first glimpse into an artistic future, embedded in the essential art and culture of their communities. To celebrate, the finale of each institute is marked by an honoring ceremony, gallery exhibition in the John A. Day Gallery in the Warren M. Lee Center for the Fine Arts and sales of works the students have created. The ceremony attracts more than 100 attendees, including the families of the students, faculty and staff, the local community and often Oscar Howe's family. In many ways, it is a commencement – new possibilities emerging from tradition.
Students are housed in air-conditioned residence halls located on the USD campus. Students may check into their rooms after completing the institute registration on Sunday. No landline phone service is provided in the residence halls, however cell phones are permitted and rooms have wireless access. Students receive keys to their room and have a roommate. Students should bring sheets (extra-long twin), blankets, pillows, towels for showering, alarm clocks and a jacket.
Students are provided three meals daily through the university Dining Services, beginning with dinner on Sunday evening and continuing through lunch on Friday.
You can apply through the online form below or print your materials and mail them to:

Oscar Howe Summer Art Institute
Department of Art
University of South Dakota
414 E. Clark Street
Vermillion, SD 57069
Applications Must Include:
Print registration form. This form is due by April 1.
Register Online
Parent/guardian permission form (if under 18 years of age).
Letter of reference from an instructor, artist or other interested party, addressing why the nominee should be accepted into the institute.
Portfolio of artwork, consisting of 10 images of the student's artwork. Preferred method is to send an email of the students work in jpg format to art@usd.edu.



Departments & Facilities
Explore the departments, facilities and centers that contribute to your education in the only College of Fine Art in the state.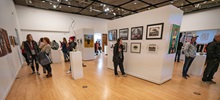 The Department of Art will provide you with unique and applicable real-world experience and connections that enable you to immerse yourself in an environment built for personal and creative discovery.