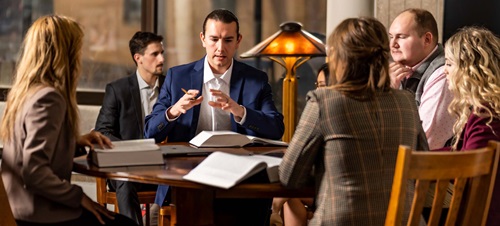 Law Student Opportunities
Explore your opportunities to get involved as a law student at USD.
Get Involved
By joining student organizations, participating in experiential learning opportunities and attending events, you can expand your network and get valuable experience that will serve you well as you prepare for your career in law. Check out the out-of-class opportunities available to you at USD.
Student Opportunities
As a student at USD, the opportunities available to you extend beyond the classroom. Explore your interests, find your community and experience your education to the fullest extent through the following opportunities.
Network with fellow law students and legal professionals through the Student Bar Association.
As part of the Student Bar Association, you'll have the opportunity to network with law students and legal professionals through social events and year-round programming. You'll make connections and take advantage of career-building opportunities that will help further your legal career.
Our Student Bar Association is affiliated with the Law Student Division of the American Bar Association. Your involvement means you'll:
Advocate for policies in the legal profession
Provide input on accreditation and academic standards
Have the chance to serve as delegate to the ABA's national convention
Members of the Student Bar Association also organize the annual Barrister's Ball, a semi-formal networking and social event for all law students that celebrates student accomplishments.
As a member of the South Dakota Moot Court Board, you'll refine your skills in appellate brief writing and oral advocacy. We offer this opportunity to outstanding second- and third-year students. You'll compete against top-performing law students at tournaments around the country.
Recent teams have placed in the top four in the nation at the prestigious New York City Bar tournament and won the regional American Bar Association moot court competition.
To be eligible for membership, all interested first-year law students must participate in the School of Law's annual Sam Masten Intramural Moot Court Competition. The competition culminates with a final round before a distinguished panel, usually composed of South Dakota Supreme Court justices.
Build your negotiating skills and face off against other colleges with the Alternative Dispute Resolution Board. You'll get experience practicing law in a controlled environment, as well as network with other law students and attorneys.
The USD Law Alternative Dispute Resolution Board provides its members practical legal experience competing in four types of interscholastic competitions: Negotiation, Arbitration, Mediation, and Client Counseling. With the vast majority of civil cases settling out of court, the ADR Board provides students the opportunity to gain highly relevant experience and develop interpersonal skills as they compete against top-performing law schools across the country. Board members also earn academic credits for their competition activities.
The board is comprised of 12 outstanding students, six 2Ls and six 3Ls. In the 2017-2018 year, the board had all three of its Client Counseling teams qualify for semi-finals at the regional competition in Omaha, NE, with one team finishing as finalists in the top three. One of the board's Negotiation teams also finished as a regional finalist, qualifying for the National Competition and placing in the Top 10 at the ABA National Negotiation Competition in Chicago, IL.
The ADR Board also hosts intraschool competitions for 1Ls each semester: Negotiation in the fall, and Client Counseling in the spring. These competitions allow 1Ls to gain experiential learning and refine their skills in front of some of the state's most prominent attorneys. To be eligible for membership, all interested first-year law students must participate in at least one of ADR intraschool competitions.
Published three times per year, the Law Review contains articles by leading members of the legal profession, as well as student notes and comments. Students involved in the Law Review develop their research and writing skills while earning academic credit. A student board of editors is responsible for all editorial work, and students are selected for board membership during their second year on the basis of their writing, leadership and dedication to the success of the Law Review.
Embrace your inner prosecutor by participating in USD's trial team. You'll learn how to present an argument in a trial setting while competing against students from law schools around the country.
As a law student, you'll have opportunities to hone your courtroom presentation skills through our nationally recognized trial team. You'll compete with students from other law schools around the nation and earn credit by participating in tournaments. Our trial team is a popular choice for students seeking courtroom experience - more than 42% of our graduating third-year students competed in at least one national trial competition in 2017-2018.
Our trial team has been selected to compete at the prestigious National Criminal Trial Advocacy Invitational Competition, one of the best trial advocacy programs in the nation that only invites the top trial teams in the country.
Trial team practices in which students are working to perfect their courtroom performance are open to any who wish to come watch. For information on when these practices take place, please contact Professor Laura Rose at Laura.Rose@usd.edu.
Transactional Law Team
The National Transactional Law Meet allows students interested in business law to gain hands-on experience through live, interactive competitions.
Join your fellow graduate and professional students at USD. We aim to build a sense of community between graduate and professional students. Build your resume, network with others and gain experience and the unique opportunity to represent the interests of graduate students to the greater campus and community.
Law Student Opportunities
Departments & Facilities
Explore the departments, facilities and centers that contribute to your education in law.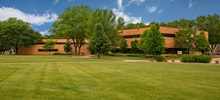 The Office of Career Services helps our students and graduates connect with meaningful legal careers and professional development opportunities. We will provide you with the necessary tools to thrive as a professional through individual career counseling, job search strategies, professional development programming, and connections with employers.