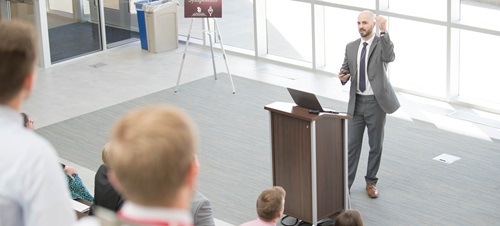 SCHOLARSHIP PATHWAYS PROGRAM
Enrich your education through rigorous independent scholarship.
The Scholarship Pathways Program is an elective opportunity that was developed to enrich the student experience by promoting rigorous independent scholarship and scholarly excellence at the USD Sanford School of Medicine. Students develop a mentored project with a focus on medical education, bench/translational research, service, or social science. A wide variety of projects fit into the four broad "pathways".
Increasingly, residency programs are selecting applicants who have research experience. This program gives students an opportunity to set themselves apart from other applicants. Successful Scholarship Pathways students wear a medallion and receive honorary mention at their graduation.
*Application requires D2L login and is available to students who have begun Medical School.
PROGRAM ELEMENTS
Students develop a project proposal with the help of a mentor and submit a formal application to the Scholarship Pathways Program in Pillar 1. The program coordinators select a limited number of students per class year to participate based on the merit of the project proposals. Acceptance into the program is a competitive process.
During the program, students complete their project by developing a poster and writing an abstract and manuscript suitable for publication. Students are encouraged to present their findings at a regional, national or international conference. Program participants work in conjunction with their mentor and program coordinators to successfully complete their project.
Scholarship Pathways awards students with tuition reduction and funding for supplies and travel to conferences for presentations.
Research—Perform basic science (benchtop) research or clinical research
Service—Find ways to improve health of the population
Education—Improve the delivery of information to students, patients, or citizens
Social Science—Improve the interaction between patients and their caregivers
The Scholarship Pathways Program is an elective opportunity that was developed to enrich the student experience by promoting rigorous independent scholarship and scholarly excellence at the USD Sanford School of Medicine and to produce leaders in medical education, social science, research and service.
Elements of this program include:
Scholarly work across all four years of medical school
Independent learning
Goal setting, prioritizing and time management
Critical thinking and data analysis
Practical experience
Faculty-mentor relationships
Required 4-8 week Pillar-3 elective
Periodic structured coursework and seminars
Abstract preparation/presentation
Poster preparation/presentation
Submission of scholarly product
Participating students benefit from focused learning opportunities in their selected pathway. This is enhanced by a faculty mentor with similar interests who can share experiences, knowledge and offer guidance in the selected pathway learning. Those who complete the program will receive special commendation in the Dean's letter for residency application and at the graduation ceremony. In addition, participation in the Scholarship Pathways Program is noted on their transcript and diploma.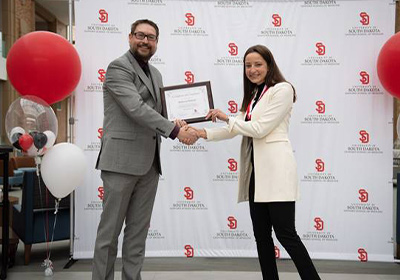 Pillar 1
Students identify area of interest & develop project idea with the help of faculty mentorship
Formal application to the program is due by January 31 of the first year
Scholarship Pathways Program coordinators select up to 20 students per year based on the merit of the project proposals
Mentor selection is based on faculty availability, expertise and student preference
Complete CITI training and IRB application as indicated
Participate in 4 week externship during the 5 week summer break
Review D2L resources for designing & presenting a medical poster, writing an abstract and compiling an annotated bibliography using Endnote
Submit abstract of work-in-progress completed during summer by the end of June
Submit progress report by the end of October
Pillar 2
Students continue work on their selected project throughout Pillar 2 with self-directed learning and faculty mentorship
Submit annotated bibliography and progress report by the end of April
Attend periodic program related seminars
Present work-in-progress virtual poster and updated abstract to coordinators for comment and critique in August
Pillar 3
Students further explore their selected topic through their choice of electives, self-directed learning, faculty mentorship, periodic seminars and independent work
Complete 4 to 8 week MEDC 892-1 required elective by the end of December
Submit progress report by the end of February
Seek out and participate in local, regional or national poster or abstract presentation opportunities
Submit final poster, abstract and scholarly product by last day of MEDC 892-1 elective
Participate in final poster and abstract presentation at the annual Scholars' Research Symposium, the Thursday before the hooding ceremony and graduation
Most students will have an idea for a project, but this is not required. We will assist in all aspects of the project from idea to completion. Scholarship Pathways is a great way to get started in research, even if never done before. A brief application is completed by the prospective student. The program has a rolling admission process that starts upon entrance to medical school and ends in January of the first year of medical school. Apply early for the best chance of being accepted.
"The major benefits of being part of the Scholarship Pathways Project include becoming more proficient at research and writing scientific papers as well as contributing to a well-rounded CV."
"Financial support, accreditation and protected time for research as well as a supportive staff to ensure your ultimate success."
"The major benefit of the SPP was that it allowed me to assess my interest in being involved in research in my future career as a physician. It also allowed me to publish a manuscript and have experiences presenting research."
"This program provides a structured framework for conducting and completing a quality research project in a timely fashion. This is ever important in the competitive and advancing medical field."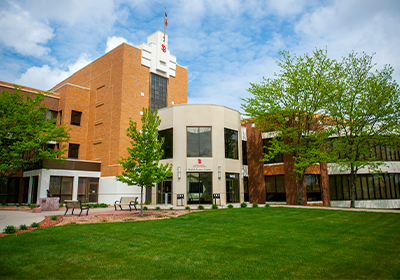 Scholarship Pathways Program
Health Science Center
1400 W. 22nd St.
Sioux Falls, SD 57105

Phone: 605-357-1364
Fax: 605-357-1311
pathways@usd.edu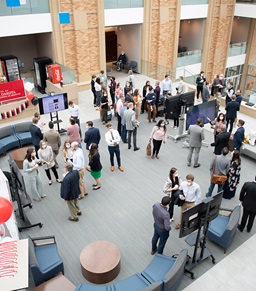 Scholars' Research Symposium
All students present at the Scholars' Research Symposium in their senior year. Some will be selected to give a podium presentation and receive a financial honorarium.
Jul 28, 2022
Scholarship Pathways is an elective program that enriches student experiences through projects related to research, community service or education.