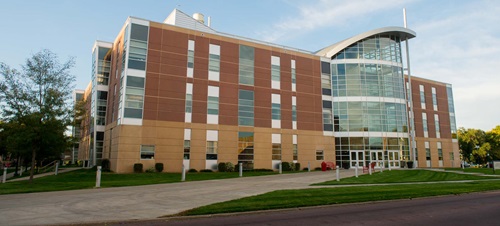 Research & Outreach Centers
The impact of the Sanford School of Medicine is not limited to producing the next generation of doctors. Our research and outreach centers are dedicated to conducting impactful research, driving economic development and providing outreach services across the state and beyond.

Last year the Sanford School of Medicine was awarded over $13.48 million in external research grants and contracts. This funding drives our research forward while also creating high-paying jobs, supporting facility construction and growing the economy. Through dedicated service and outreach centers, our faculty, staff and students work to improve the health care of the citizens of the state.
Dedicated Research Centers
Biomedical Research Infrastructure Network (BRIN)
The Biomedical Research Infrastructure Network supports and investigates biomedical research and scientific findings throughout the state of South Dakota.
Center for Brain & Behavior Research
The Center for Brain and Behavior Research (CBBRe) promotes outstanding training of research students and fellows, feeding the pipeline of creative independent scientists in the fields of neuroscience and behavioral science.
---
Outreach & Service Centers
Center for Disabilities
The Center for Disabilities is dedicated to improving the lives of individuals with disabilities and their families through community education, clinical services, interdisciplinary training, technical assistance, research, and policy work.
South Dakota Area Health Education Center
The South Dakota Area Health Education Center is dedicated to recruiting, training and retaining health professionals committed to underserved populations.
Student Clinics
Medical students manage student-run clinics in Sioux Falls and Vermillion, and are actively involved in clinics in Rapid City and Yankton. The following provide free care to their communities and hands on training for our students under the supervision of physicians.
Coyote Clinic
The Coyote Clinic promotes the well-being of the Sioux Falls community by providing high-quality, free health care to the uninsured.
Servant Hearts Clinic
A non-profit, Christian based, free medical clinic serving Yankton, SD. The clinic sees anyone over 18 years old for medical care regardless of income or insurance level.