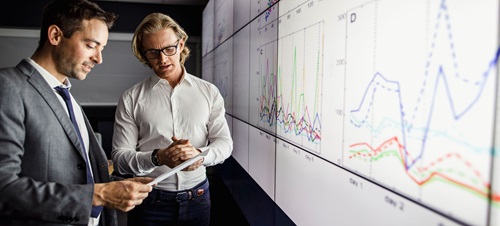 Business Analytics
Master the art and science of analyzing business data to solve problems as you pursue your Master of Science in Business Analytics. Prepare to meet the exploding demand for analysts and data scientists through this hands-on program.
Demand is High for Business Analytics Graduates
The world of business analytics is growing exponentially and the demand for skilled business analysts is increasing in all sectors of the economy. As a MSBA student at USD you will join a growing field of problem solvers with a program focused on the application analytics, statistics and business to find better solutions to:
Positively impact the bottom line through data-driven decision making
Build computer applications Analyze and visualize data
Develop short-term and long-term forecasting methods
Implement market performance analysis.
Gain hands-on experience in SAS development ecosystem
Learn in the state-of-the-art Ellis Finance & Analytics Lab

Learn from professors with industry experience as they lead you through the program, building new knowledge on prior understanding by combining statistics and computer science with business knowledge. You will be prepared to for a successful career in finance, health care, manufacturing, hospitality, agriculture, tourism and more.
The M.S. in Business Analytics is a STEM designated program.
Degrees & Offerings
Business Analytics (M.S.)
Master's
A master's in business analytics prepares you to build and grow a successful and rewarding career in today's increasingly data-driven economy. Keeping in mind the exploding demand for business analysts in all sectors of the economy, our goal is to equip you with the latest concepts, tools and techniques to analyze business data to predict future performance, identify opportunities to increase revenue; reduce costs; and increase business productivity.
Offering in-depth knowledge and expertise in data management, data analysis, visualization, optimization this master's equips you with leading skills in data-driven decision making. You will find rewarding career opportunities in the region, nation or across the globe.
Program Details
Graduate
College
Department
Contact
Graduate Admissions
Start Your Application Today
Each program has unique application requirements and deadlines. Be sure and consult the graduate catalog for detailed program information. It will ensure your application and materials are complete and submitted on time. To learn more about the application process, visit how to apply.
Known for Excellence
With qualities like small class sizes, specialized programs and incredible student opportunities, USD is not your typical university. What makes us unique is what makes your education exceptional.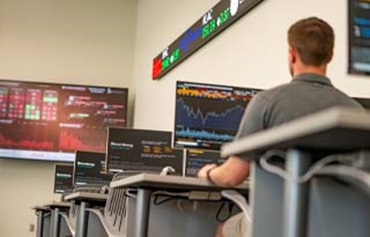 Learn in the state-of-the-art Ellis Finance & Analytics Lab.

Program can be completed in one year depending on full or part-time status.
20-25% projected job growth by the year 2030.
Source: U.S. Bureau of Labor Statistics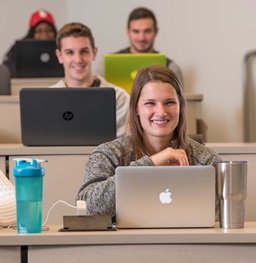 Student Opportunities
The academic opportunities available to you extend beyond the classroom. Visit our department webpage for more information about the experiences and resources you can look forward to as a student at USD.
Learn more about economics and decisions sciences
Departments & Facilities
Explore the departments, facilities and centers that contribute to your education in economics and decision sciences.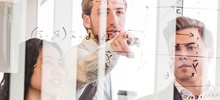 Analyzing and applying data is both one of the greatest opportunities and challenges modern business professionals face, and USD's Division of Economics and Decision is there to help you embrace that challenge head on.
Faculty & Staff
Get to know the faculty and staff in the Economics and Decisions Sciences Division. Our faculty are experts in their field, contributing research and scholarship in public policy, labor, micro- and macroeconomics and much more.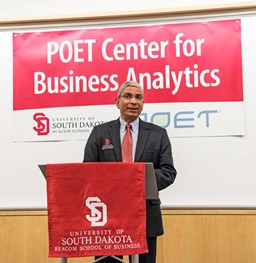 Grow Your Network 
As a student in this program you will benefit from a wealth of resources and talented experts connected to the Beacom School of Business. This program was developed with the guidance and encouragement of leading businesses in the region. In addition to the strong University of South Dakota alumni network, you will also have access to program specific resources.
POET Center for Business Analytics at the Beacom School of Business provides connections to area businesses and extensive research expertise.

Access to SAS software suite and computing tools necessary to develop critical skills in business analytics.

Active engagement from industry leaders eager to contribute knowledge and professional connections.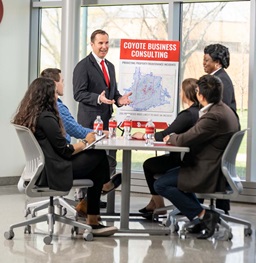 Gain Real-World Experience
Coyote Business Consulting Group is a student-centered initiative at the USD Beacom School of Business designed to help businesses stay competitive in the state of South Dakota and throughout the region. The program enables student-teams, with the guidance of faculty advisors, to help businesses solve a critical problem for their organization.
Coyote Business Consulting Group is intended to be mutually beneficial for both the students and the businesses. The consulting service will be offered at no charge to businesses and students will have the opportunity to receive academic credit, financial support and real-world experience. Available to all businesses, but a special emphasis is placed on small businesses, as they are the backbone of our economy.
Surprisingly Affordable
Whether you've recently completed your undergraduate degree, or you want to kick your career up a notch, graduate school is the next logical step. The good news is there is funding for both online and on-campus students to get you through your program.
| | Resident & WRGP | MN Residents | Non-Resident |
| --- | --- | --- | --- |
| Tuition (9 cr.) | | | |
| Fees (9 cr.) | | | |
| Books (estimate) | | | |
More About Tuition & Fees
This is an estimate tuition rate* per credit hour and other factors such as special fees associated with your program may change the cost of tuition. Tuition rates are subject to change.
If you are wondering about how to pay for graduate school, there are additional funding options to consider.