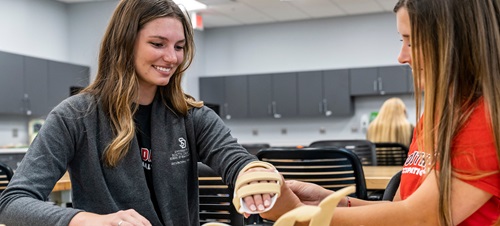 Occupational Therapy
Occupational therapists lead fulfilling careers, helping people of all ages adapt to their circumstances and achieve greater independence in their daily lives. The Doctor of Occupational Therapy (OTD) program provides you with the real-world learning experiences and practical knowledge you need to deliver high-quality care that changes lives.
Empower others and change lives
Throughout the lifespan, people encounter challenges that impede their ability to navigate everyday activities and achieve their goals. As an occupational therapy student at USD, you will gain the educational foundation you need to address these needs and help people of all ages live full, meaningful lives.
Our program takes a holistic, person-centered approach – one that considers the physical, psychological and social needs of clients and understands the importance of adapting the environment to fit the person. You'll experience real-world learning in state-of-the-art laboratories, community settings and fieldwork sites that will equip you with the confidence you need to thrive in your profession. You'll also learn from professors who know your name and care about your success. With a small student-to-faculty ratio and an open-door policy, our program is committed to providing you with personalized advising and support. The OTD program will prepare you to become an expert, compassionate occupational therapist who creates innovative services for your clients.
Help others maximize their independence in daily life as an occupational therapy student at USD.
Degrees & Offerings
Occupational Therapy (OTD)
Doctorate
The Doctor of Occupational Therapy program equips you with the expertise and person-centered approach you need to empower individuals as they work toward their goals and seek independence. You'll take either the non-specialization route or choose from one of the following specializations: mental health, neuroscience and rehabilitation, pediatrics or rural/underserved.
Program Details
Graduate
College
Department
Contact
Graduate Admissions
Start Your Application Today
This graduate program utilizes a specialized CAS online application to complete the admissions process. To learn more about this program's unique application process, requirements and program deadlines, visit Specialty Graduate Program Applications.
Additional requirements exist for international applicants. For more information, visit International Admission Requirements.

Known for Excellence
With qualities like small class sizes, specialized programs and incredible student opportunities, USD is not your typical university. What makes us unique is what makes your education exceptional.
The USD occupational therapy program was one of the first 12 programs in the U.S. to offer the OTD program.
At USD, your professors know your name and want to help you succeed with a 1:4 faculty-student ratio.
Departments & Facilities
Explore the departments, facilities and centers that contribute to your education in occupational therapy.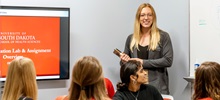 Our department facilitates meaningful research and a robust education for future occupational therapists through the Doctor of Occupational Therapy program and an occupational therapy pathway. With state-of-the-art facilities, a small student-to-faculty ratio, hands-on learning opportunities and more, the department prepares students to assist people in achieving their goals, maintaining or rebuilding their independence and participating in everyday activities. 
Faculty & Staff
Get to know the faculty and staff in the Department of Occupational Therapy. Our faculty are experts in their field, contributing research and scholarship in management of chronic disease, the role of OT in dementia care, occupation-based intervention and quality of life with lymphedema, psychosocial rehabilitation, occupational performance measurement, productive aging and gerontology, promotion of childhood mental health and more.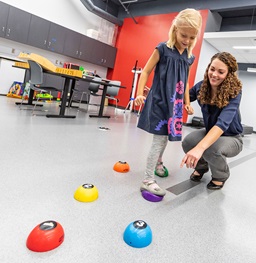 State-of-the-Art Facilities
You'll learn in state-of-the-art facilities right here on campus. Our program is located in the Sanford Coyote Sports Center, which houses teaching, learning and clinic spaces that are designed for collaboration and hands-on experiences. You'll also take classes alongside other health sciences and medical students in the Lee Medical Building. From human gross anatomy courses to simulation exercises, the opportunities offered in these facilities make your education exceptional.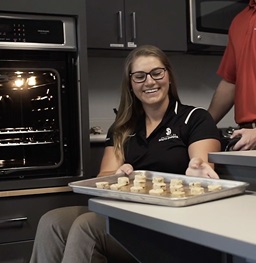 Learn by Doing
Throughout your education, you'll learn in real-world settings and serve your community. Here are just a few of the experiences you can look forward to:
Participating in simulations alongside students from a variety of disciplines

Having the opportunity to complete fieldwork in the pediatric, physical rehabilitative, psychosocial and other arenas in one of our 175+ partner sites around the nation

Attending occupational therapy conferences at both the state and national levels

Choosing an area of specialty to explore and research through your capstone experiential project
2021-2022 Tuition and Fees
Tuition - Graduate Student
Rate/Credit Hour
South Dakota Resident
$340.15
Minnesota Resident Reciprocity*
$594.50
Non-Resident
$888.10
University Fees
Rate/Credit Hour
General Activity Fee
$55.30
Lab/STEM Fee
$42.35 per ANAT and PHGY credit hour
School of Health Sciences Special Discipline Fee
$103.50 per OCTH credit hour
OT Liability Fee (estimated)
$11.00 each fall semester
Estimated Program Total (114 Credits)**
South Dakota Resident
$56,302
Minnesota Resident Reciprocity
$84,240
Non-Resident
$116,428
Other Expenses (Estimated)
Books
First Year (Estimated)
$2,700
Second Year, Summer (Estimated)
$1,100
Second Year (Estimated)
$1,300
Third Year, Summer (Estimated)
$678
Third Year (Estimated)
$500
Vaccinations
Hepatitis B Vaccination estimate (1st Year only if you have not completed the vaccination series and a positive titer).
Each of the vaccinations in the series is approximately $59 and the titer is approximately $40.
TB (PPD) Vaccination
$10/year
Influenza Vaccination
$35/year
*Minnesota reciprocity rate for summer 2021. This information may be updated for fall 2021 and spring 2022.
**Number of credits is subject to change.
WICHE Professional Student Exchange Program
If you are a resident of Alaska, Hawaii, Montana or Wyoming, you are eligible to apply for reduced tuition through the WICHE Professional Student Exchange Program.
Quality Educational Experiences
USD's occupational therapy program is fully accredited. Accreditation fosters quality educational experiences and helps to ensures that the program is taught by qualified faculty, has the resources it needs to support the curriculum, meets its mission, has acceptable student outcomes, and provides accurate information to the public.
The Doctor of Occupational Therapy program at the University of South Dakota is accredited by the Accreditation Council for Occupational Therapy Education (ACOTE) of the American Occupational Therapy Association (AOTA). ACOTE is recognized as the accrediting agency for occupational therapy education by both the United States Department of Education and the Council for Higher Education Accreditation.
Students must graduate from an ACOTE-accredited program and successfully pass the National Board for Certification in Occupational Therapy exam in order to apply for state licensure and to practice as an occupational therapist.
For more information, visit the AOTA website or contact:

ACOTE
6116 Executive Boulevard, Suite 200
North Bethesda, MD, 20852-4929
Phone: (301) 652-AOTA (2682)
www.acoteonline.org