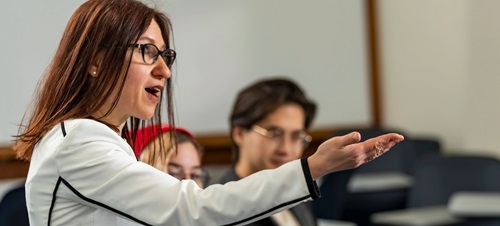 Fundamentals of Medical Spanish
Embark on a transformative journey with our Fundamentals of Medical Spanish Certificate, designed specifically for busy professionals in healthcare seeking a basic yet targeted proficiency in Spanish.
Why Study Medical Spanish?
As a student studying medical Spanish at USD, cultivate essential language skills designed for those aiming to hold basic medical conversations with patients. Gain a unique advantage with a program tailored to your busy schedule, positioning yourself for a successful healthcare career in diverse patient interactions at USD.

Degrees & Offerings
Fundamentals of Medical Spanish
Bachelor's
With a certificate in medical Spanish, you will develop essential language skills essential for basic medical conversations with patients, improving your healthcare career prospects. This certificate is ideal for all healthcare majors.
Program Details
Undergraduate
College
Department
Contact
Admissions
Departments & Facilities
Our faculty include award-winning professors who provide mentorship to students for their Honors Theses, U.Discover research projects and internships. We are dedicated to mentoring you and helping you prepare for the exciting career opportunities open to those who speak more than one language.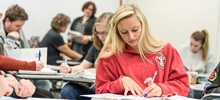 Connect with others, gain marketable skills and thrive in a culturally diverse world by learning a new language and exploring other cultures.
faculty and staff
Our faculty in the Department of Modern Languages & Linguistics have consistently earned awards for their teaching and scholarship. Our faculty are experts in their fields, contributing to research in Spanish literature and theater, German language and culture, foreign language pedagogy, Russian culture, historical linguistics, sociolinguistics and phonetics.