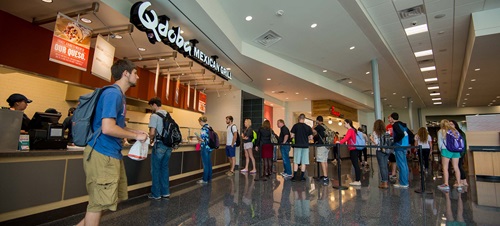 Campus Dining
Craving something? Chances are, campus dining has what you're looking for!
Take a walk through your campus and you will find many restaurants, buffets and express options available. Once you have your meal plan established, your Coyote Card is all you need at each campus dining location and can be used just like a debit or credit card. We know that enjoying your meals, coffee and snacks across campus becomes a huge part of your overall experience and our goal is to make it as seamless and enjoyable as possible! For additional information on Coyote Dining or Coyote Catering, head to the
USD Sodexo website
.
Retail locations are the place to meet, greet and eat between classes. Eat in or take out using flex dollars! Click each location for their specific hours.
Coyote Dining Hall is an all you care to eat location, which features full breakfast, lunch and dinner, with a variety of options ranging from classics like international entrees, grill, deli and salad bar to vegetarian options and our allergen free Simple Servings location.
Coyote Dining Hall Hours
Breakfast: 7:30 a.m. - 10:00 a.m.
Lunch: 11 a.m. - 2 p.m.
Dinner: 5 p.m. - 7 p.m.
Our 24-hour, autonomous markets offer you the convenience of a quick bite before class or when you are in a rush.
Coyote Village Market
North Complex Beede Market
Your Coyote Card is your single most important piece of identification at USD. This multi-purpose ID will be your identification, meal and library card. You will use your card for residence hall access, laundry and vending machines, photocopies, printing, supplies and books and even as a debit card that can be used with campus and community vendors.
How to Request Your Coyote Card Official Student ID
The Coyote Card Office is located in the I.D. Weeks Library, room 104.
You can get your student USD ID by completing the Student ID Request Application. You will need the following information to complete the form:
Your student ID number
A copy of a government issued identification
A head shot (no particular size requirement)

Your ID will be mailed to the home address that is listed through the Admissions Office if request is made prior to three weeks before the semester start date.

Requests submitted after this date will be held at the Coyote Card Office.
Please indicate if you are a undergraduate or graduate student
*Replacement IDs can be requested by calling 605-658-3559 or emailing coyoteid@usd.edu. You will be charged a $20 replacement cost fee using Coyote Cash or a credit card payment via phone.
Learn More About Your Coyote Card