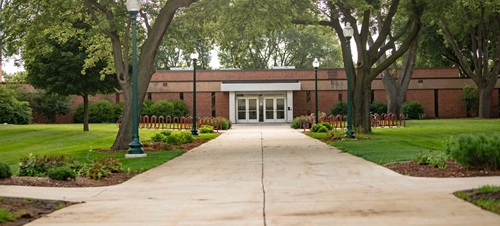 Apply for Housing
Ensure your place for a fulfilling year—act now and secure your on-campus home.
Find Your Home
Living on campus is one of the best ways to get the most out of your Coyote experience. We're excited to help you find your home at USD!
Here are the steps you can take to get started.
1. Set up your USD account.
Before you can access the housing application, you'll need to take care of a couple logistical steps. Find your USD student ID number (available on your acceptance letter or by contacting your admissions counselor) so you can cross these items off your list:
2. Make your commitment to USD and apply for housing.
Let us know that you're ready to become a Coyote by submitting your $100 University Housing Deposit. The 2023-24 housing application is now open. On-campus housing is usually in high demand, so apply early.
Here are the decisions you'll get to make and the information you'll need to provide:
3. Select your room.
After completing the housing application, the next step is room self-selection. University Housing contacts students about self-selecting a room, room assignment confirmation and important housing updates. Please check your USD email account regularly.
Confirmation emails of housing assignments are released in April and weekly thereafter for the coming fall semester. You will receive your room assignment, contact information for your roommate and important information about living on campus, so please check your USD email account regularly.
Complete Housing Contract
Understand that the housing contract becomes legally binding once electronically signed. By checking the agreement box and entering your first and last name, you guarantee placement within on-campus housing. However, note that it is not specific to a resident hall or room type. Students are provided a 24-hour window from the contract signed date for cancellation, no questions asked. Review this step carefully!
The following items are found in the housing portal where you complete your housing application.
Submit Your Housing Accommodation Information
Review this section thoroughly to ensure that all crucial information and contact details are accurate. This is also the opportune time to request a reasonable medical accommodation. Please download and complete the provided forms and submit your request before the March deadline. By adding a listed parent or guardian's information, you can include them in our general Housing communication while adhering to our FERPA privacy policies.
Review Your Criminal Background Information
Carefully read and review this page to accurately answer the single-step question.
List Your Room & Hall Preferences
Returning students can list all residence halls on campus as preferences. This listing comes into play for administratively assigning students who apply after the room selection deadline or for those not participating in room self-selection.
Create Your Roommate Profile
This section allows you to identify your own roommate style and provide a short bio for potential new roommates to view. All questions in this step are viewable when you begin searching for your roommate.
Explore Living & Learning Communities
While living within a community with similar interests is not mandatory, it can be both fun and informative. Explore the options within North Complex.
Establish Roommate Groups
Roommate groups are limited to two students. By creating a roommate group and accepting your desired roommate, both members of the group can be assigned to the same room space during self-selection. Roommate requests must be mutually confirmed by February.
Participate in Room Selection
Please note that this step is only available within the room selection timeframe, from the student's informed timeslot to the deadline of the room selection process. Applications received outside of this timeframe will be administratively assigned based on space availability and the applicant's listed preferences. Refer to room and hall preferences.
Select Your Meal Plan
Certain meal plans are available to specific student classifications and room assignment placements. Review our Dining website for all meal plan options available to you. For applications that do not select a meal plan, the default Yote Pack 70 will be assigned.
Keep in mind that room and meal plan selections are only available within specific timeframes, and all students will be notified at their Coyotes/USD email.
Important Dates
October:
Begin submitting your $100 housing deposit to access the on-campus application.
December:
Off-campus Housing Exemptions open for submission.
January:
First round of off-campus lottery drawing approvals.
Returning housing application opens.
February:
Final reminder to sign contracts with roommate groups for room selection.
March:
Room selection begins!
Room self-selection closes. Late applications assigned based on availability.
April:
Official notification of room assignments and meal plans sent via USD email.
Room and Meal Plan Change process opens.
May:
Deadline for off-campus housing and meal plan exemptions.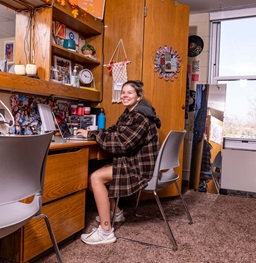 See Your New Home
Want to explore your options? Get a closer look at our residence halls and the sense of community you'll find here.
Explore Residence Halls