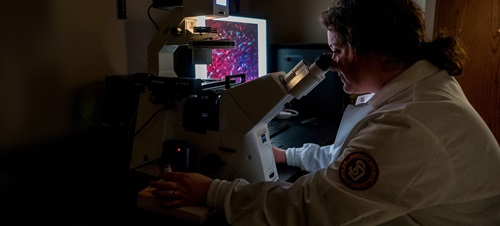 Chemistry
The Master of Science in chemistry will prepare you for multiple career paths. Master chemists are in demand for positions in chemical industry and government laboratories, and the degree provides solid preparation for those who continue to study at the doctoral level.
A broad range of skillsets
The chemistry master's degree includes coursework, teaching, seminar and thesis components. Contribute to an original research project that leverages your knowledge and creativity. Teaching and seminar components will develop your communication and team-working skills needed to succeed in the workforce.
Our award-winning faculty lead projects that span the major subdisciplines of chemistry wherein students use modern chemical theory, techniques, and instrumentation to produce original, high-impact science. Network with the global scientific community and develop critical skills to become the next generation of chemists. You'll be amazed at how quickly you can complete the degree requirements in just two years! Get ready to dive into the world of chemistry and unlock your potential for an exhilarating future.
Degrees & Offerings
Chemistry (M.S.)
Master's
With our Master's program, you'll be equipped to take on exciting opportunities in the chemical industry, government, or education. Plus, this program is the perfect stepping stone for those who aspire to pursue doctoral studies. Our rigorous curriculum comprises an array of advanced coursework in organic, analytical, physical, and inorganic chemistry as well as teaching, seminars, and thesis components. This program requires 30 credit hours and is open to students who hold a bachelor's degree in chemistry or related disciplines.
Accelerated Chemistry (B.S./M.S.)
Major + Master's
If you are a current USD undergraduate student who would like to begin a master's degree while completing your bachelor's degree, you may apply and begin the program after the completion of 90 undergraduate credit hours.
Program Details
Graduate
College
Department
Contact
Graduate Admissions
Known for Excellence
With qualities like small class sizes, specialized programs and incredible student opportunities, USD is not your typical university. What makes us unique is what makes your education exceptional.
Graduate Assistantships
We provide graduate assistantships (approximately $17,000 per year) to support your studies. Specific projects may qualify for higher stipends.
USD Graduates Succeed
Our graduates find employment in chemical industry or gain admission to Ph.D. programs.
High Impact Research
Choose from projects that span multiple areas of chemistry. Work with collaborators on an interdisciplinary project.
Internationally Recognized Faculty Our faculty lead projects and regularly update the scientific community through conferences and publications.
STUDENT OPPORTUNITIES
As a student at USD, the opportunities available to you extend beyond the classroom. Explore your interests, find your community and experience your education to the fullest extent through the following opportunities.
Financial support for your studies is available through teaching and research assistantships. Teaching assistants work with faculty members to provide instruction for undergraduate laboratory courses in general and organic chemistry. Research assistantships provide financial support during the summer when graduate students are more actively conducting research.
Teaching and research assistantships are awarded by individual departments. If you do not receive an assistantship within your department, you are eligible for an assistantship outside of your academic program or within support offices (non-academic units) at USD. Further inquiries should be directed to the graduate chair of the department.
Learn to conduct original, high-impact research with active mentorship from a faculty member. Choose from a variety of research topics that span the major disciplines within chemistry, including interdisciplinary projects supported by collaborators from other groups. Each faculty member leads a research team that typically includes undergraduates, graduate students, and postdoctoral members. Work as a member of a team, learn to mentor junior members of the group, and develop independent research skills. Students typically present their research at regional and national professional meetings.
USD is home to more than 170 student organizations, including several that are housed in the School of Business. You may be interested in marketing or Beacom Consulting Group to make friends, develop new skills and explore your interests.
Chemistry Club
The Chemistry Club's goal is to make chemistry more exciting and intriguing for a wide variety of students. The group sponsors multiple activities off- and on-campus, such as an elementary outreach program and a Christmas/Welcome Back party with the department's faculty.
Women in Chemistry
The Chemistry WISE provides a networking resource for women graduate students, undergraduate students and post-docs in the department, with the goal of increasing the recruitment and retention of women in STEM fields.
Graduate & Professional Student Association (GPSA)
Join your fellow graduate and professional students at USD. We aim to build a sense of community between graduate and professional students. Build your resume, network with others and gain experience and the unique opportunity to represent the interests of graduate students to the greater campus and community.
Departments & Facilities
Explore the departments, facilities and centers that contribute to your education in chemistry.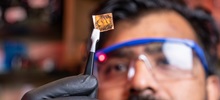 USD Chemistry is a tight-knit community of scholars. Undergraduates, graduate students, post-docs, and faculty work together in the classroom and the laboratory to solve some of today's biggest challenges in health, energy and the environment.
Faculty & Staff
Get to know the faculty & staff in the Department of Chemistry. Our faculty are internationally recognized scholars and continually update and improve their knowledge and skills as chemists. We aim to develop relevant skills so that our graduates are highly marketable in the job force.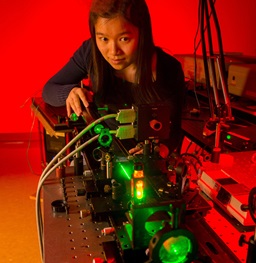 Cutting-Edge Equipment and Facilities
Access state-of-the-art research equipment and work within newly renovated laboratory space.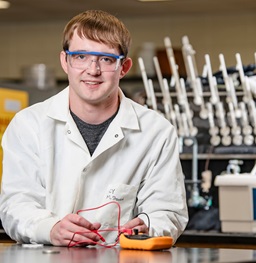 Vibrant Research Community
A research-active department led by 13 faculty and home to more than 30 chemistry graduate students and postdocs, we are a vibrant scientific community made up of chemists from all over the world.
Surprisingly Affordable
Whether you've recently completed your undergraduate degree, or you want to kick your career up a notch, graduate school is the next logical step. The good news is there is funding for both online and on-campus students to get you through your program.
| | GA (Resident*) | Resident | Online | Non-Resident |
| --- | --- | --- | --- | --- |
| Tuition (1 cr.) | | | | |
| GAF Fee (1 cr.) | | | | |
| Total | | | | |
More About Tuition & Fees
Tuition rates are subject to change and may vary depending on the program or department. Visit the Graduate Tuition & Costs page for more information.
* Graduate Assistant (GA) rates are available for resident, non-resident and online students.
** Resident rates may be available to you through the SD Advantage, Child of Alumni or Western Regional Graduate Program. To see if you quality, visit usd.edu/grad-tuition.