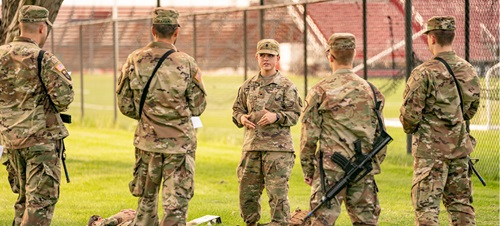 Military Science
Master skills in adaptive leadership and field craft as a Cadet while taking tuition-free courses and earning full academic credit.
Why Study Military Science?
As a military science minor at USD, you will dive into learning about the Army, leadership, team development, training management and war fighting function. Studying military science will allow you to commission as an Officer in the army after completion of the minor. Minoring in military science can also be used to fulfill social science and elective credit requirements.
Challenge yourself to be a leader and participate in exciting Cadet opportunities as a military science minor at USD.
Degrees & Offerings
Military Science
Minor
A minor in military science challenges you to increase self-confidence through team study and activities in basic map reading, physical fitness, rappelling, leadership reaction course, first aid, making presentations and basic marksmanship. Learn fundamental concepts of leadership for a profession in both classroom and outdoor laboratory environments.
Program Details
Undergraduate
College
Department
Contact
Admissions
Departments & Facilities
Explore the departments, facilities and centers that contribute to your education in military science.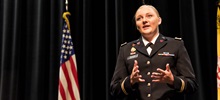 The USD Department of Military Science will train you to be a leader in the field and on the job. Through our Reserve Officer Training Crops (ROTC), we educate and train students to commission as 2nd lieutenants in the United States Army to serve our state and country.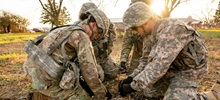 Veterans' Services, a division within the Office of the Registrar, proudly assists service members, veterans and their families with applying for and receiving education benefits.