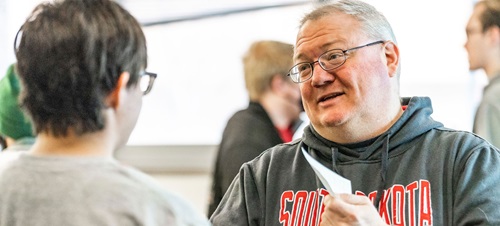 Alternative Teacher Certification
Pursue your dream of becoming a teacher with the route that suits you best. The Alternative Teacher Certification allows you to transition from your current field of interest to K-12 teaching.
Become a Teacher on Your Schedule
The online Alternative Teacher Certification graduate certificate provides a pathway to teaching certification outside of traditional teacher education programs. If you have a bachelor's degree in a non-education field, you can transition to K-12 teaching by receiving a valid Alternative Preliminary Certificate and an offer of employment from a public or Department of Education-accredited school. In addition to the certificate, you will need to pass the appropriate state-designated pedagogy test, adhere to the SD Code of Professional Ethics for Teachers and receive sign-off from the employing school/district.
Pursue your dream and transition to teaching with an Alternative Teacher Certification from USD.
Degrees & Offerings
Alternative Teacher Certification
Certificate
This graduate certificate in Alternative Teacher Certification is an online stand-alone credential that is designed to meet the state of South Dakota's requirements for alternative certification for teaching licensure. Certification requires 15 transcripted credits covering topics in classroom management, teaching methods, student assessment, differentiated instruction, adolescent psychology and South Dakota Indian studies.
Program Details
Graduate
College
Department
Contact
Graduate Admissions
departments & facilities
Explore the departments, facilities and centers that contribute to your education in curriculum and instruction.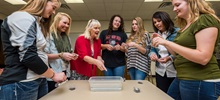 Preparing professional educators to be tomorrow's leaders in teaching through developmental, integrative and reflective practices.
Faculty & Staff
Get to know your professors in the Division of Curriculum & Instruction. Our faculty

are nationally recognized for their research and have a national network of connections to help students progress in their careers.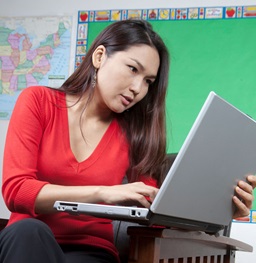 Take Your Classes Online
We're committed to bringing our knowledge to you. USD serves the largest number of online students in the state of South Dakota. With competitive online
tuition rates
, we offer the same price whether you're out-of-state or an in-state resident.
Take classes at your own pace, enroll in an online class today!
Surprisingly Affordable
Whether you've recently completed your undergraduate degree, or you want to kick your career up a notch, graduate school is the next logical step. The good news is there is funding for both online and on-campus students to get you through your program.
| | GA (Resident*) | | Online | Non-Resident |
| --- | --- | --- | --- | --- |
| Tuition (1 cr.) | | | | |
| GAF Fee (1 cr.) | | | | |
| Total | | | | |
More About Tuition & Fees
Tuition rates are subject to change and may vary depending on the program or department. Visit the Graduate Tuition & Costs page for more information.
* Graduate Assistant (GA) rates are available for resident, non-resident and online students.