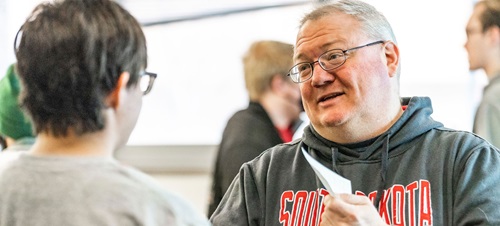 Alternative Teacher Certification
Pursue your dream of becoming a teacher with the route that suits you best. The Alternative Teacher Certification allows you to transition from your current field of interest to K-12 teaching.
Become a Teacher on Your Schedule
The online graduate certificate for Alternative Teacher Certification is intended for individuals who are interested in becoming a teacher outside a traditional teacher preparation program and who meet state requirements for alternative certification. This certificate is ideal for individuals with bachelor's degrees in non-education fields who want to transition to K-12 teaching. This program only provides the coursework required of the South Dakota alternative certification, covering the following topics: classroom management, teaching methods, student assessment, differentiated instruction, adolescent psychology, and South Dakota Indian studies. This certificate alone does not result in teacher licensure or certification. Additional requirements must be met through the State of South Dakota Department of Education.
Pursue your dream and transition to teaching with an Alternative Teacher Certification from USD.
Degrees & Offerings
Alternative Teacher Certification
Certificate
This graduate certificate in Alternative Teacher Certification is an online stand-alone credential that is designed to meet the state of South Dakota's requirements for alternative certification for teaching licensure. Certification requires 15 transcripted credits covering topics in classroom management, teaching methods, student assessment, differentiated instruction, adolescent psychology and South Dakota Indian studies.
Program Details
Graduate
College
Department
Contact
Graduate Admissions
Departments & Facilities
Explore the departments, facilities and centers that contribute to your education in teacher residency & education.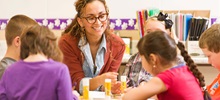 The Division of Teacher Residency & Education is focused on preparing effective, responsive teachers who can meet the needs of all students in today's schools. Through unique features such as a robust yearlong residency, an emphasis on technology and curriculum that recognizes a variety of learners, our division offers an enriching education for educators and leaders.
Faculty & staff
Get to know the faculty and staff in the Division of Teacher Residency & Education. Our faculty's K-12 experience informs their teaching; they know what it's like to manage a classroom, plan curriculum and teach a wide variety of learners, so they have the expertise necessary to prepare you for your future classroom.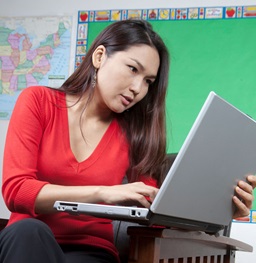 Take Your Classes Online
We're committed to bringing our knowledge to you. USD serves the largest number of online students in the state of South Dakota. With competitive
tuition rates for online programs
, we offer the same price whether you are an in-state resident or live out of state.
Take classes at your own pace. Enroll in an online class today!
Surprisingly Affordable
Whether you've recently completed your undergraduate degree, or you want to kick your career up a notch, graduate school is the next logical step. The good news is there is funding for both online and on-campus students to get you through your program.
| | GA (Resident*) | Resident | Online | Non-Resident |
| --- | --- | --- | --- | --- |
| Tuition (1 cr.) | | | | |
| GAF Fee (1 cr.) | | | | |
| Total | | | | |
More About Tuition & Fees
Tuition rates are subject to change and may vary depending on the program or department. Visit the Graduate Tuition & Costs page for more information.
* Graduate Assistant (GA) rates are available for resident, non-resident and online students.
** Resident rates may be available to you through the SD Advantage, Child of Alumni or Western Regional Graduate Program. To see if you quality, visit usd.edu/grad-tuition.