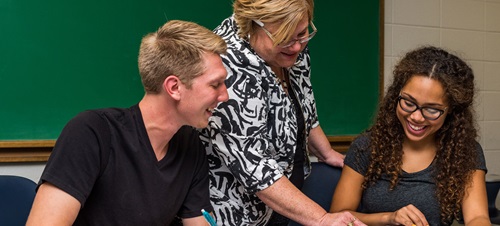 Curriculum and Instruction
Become a leader in higher education, administration or government agencies to transform educational practices and policies.
Impact Students at Any Level
If you are seeking a flexible program that is uniquely designed to fit your goals and needs, this is a good choice! You'll develop the necessary background and professional expertise for career paths such as university teaching, supervisory work in schools, curriculum planning, consultant work, government agencies or similar positions that allow you to transform educational practices and policies. Through the Doctor of Education in curriculum and instruction program, you will build comprehensive skills and gain the knowledge to become an innovative leader in education. Our program is highly ranked, accredited by CAEP and affordable. It provides you with a wealth of experience in and beyond the classroom so you can pursue your passion and prepare for a career in curriculum and instruction.
Become a leading authority in education who creates effective and optimal learning environments as a curriculum and instruction student at USD.
Degrees & Offerings
Curriculum & Instruction (Ed.D.)
Doctorate
This doctorate is intended for those who choose careers as a professor in teacher education programs at the collegiate level, as well as those interested in becoming master teachers, curriculum and instruction specialists, supervisory personnel, academic coordinators in school systems and educational specialists in state departments. Coursework for the major area may be taken in elementary, secondary special or STEM education to allow for individual needs and goals. Students should address their interests at the time of application to the program. A three-credit internship is required for the doctorate. Ninety credit hours beyond a bachelor's degree or sixty credit hours beyond a master's degree are required.
Students seeking a doctorate should discuss the residency options in this program with the department chairperson or their advisor upon admission to the program.
Program Details
Graduate
College
Department
Contact
Graduate Admissions
Known for Excellence
With qualities like small class sizes, specialized programs and incredible student opportunities, USD is not your typical university. What makes us unique is what makes your education exceptional.
Build proficiency in your ability to understand qualitative, quantitative and mixed methods of research through research methods and statistics courses.
Coursework may be taken in elementary, secondary or special education to allow for individual needs and goals.
STUDENT OPPORTUNITIES
As a student at USD, the opportunities available to you extend beyond the classroom. Explore your interests, find your community and experience your education to the fullest extent through the following opportunities.
An Affordable Education

Gain valuable real-world, professional experience while enjoying paid employment and discounted tuition rates as a graduate student at USD. The affordability you gain through graduate assistantships and fellowships will equip you with valuable, professional-level skills that will set you apart after graduation.
Teaching and research assistantships are awarded by individual departments. If you do not receive an assistantship within your department, you are eligible for an assistantship outside of your academic program or within support offices (non-academic units) at USD. Further inquiries should be directed to the graduate director of the department.
Real Experience Through Research
You'll find the mentorship and opportunities you need to study topics that spark your curiosity.
At USD, you can actively pursue unique research, present at local and national conferences and explore innovative areas that interest you. Learn more about resources and research opportunities for USD graduate students.
Build Your Network
USD is home to more than 170 student organizations, including several that are housed in the School of Education. You may be interested in creating projects and hosting outreach opportunities to make friends, developing new skills and exploring your interests.
Council for Exceptional Children
The Council for Exceptional Children (CEC) is a special education organization that works with children who have special needs. Members do various service projects for the community that serve individuals with special needs and their families. Some of the activities include SibShops, Miss Amazing Pageant, Tanager Takeout, Lunch Buddies, Study Buddies at the middle school, Homework helpers, Halloween and Valentine's Day Dance, Santa's Workshop and the Dakota Days Parade. The organization also works with the Special Olympics Group on USD's campus to advocate and promote self-determination.
National Association for the Education of Young Children
The National Association for the Education of Young Children is a professional membership organization that promotes high-quality education and learning for young children by addressing policy, research and early childhood practice.
National Education Association & South Dakota Education Association
A branch of the National Education Association, the USD chapter of the South Dakota Education Association aims to acquaint students in teacher education programs with the history, ethics and programs of the education profession while also supporting and increasing their involvement in the community. The association serves as a vehicle to strengthen students' voices regarding concerns of the education profession in the state of South Dakota.
School of Education Student Ambassadors
The School of Education Student Ambassadors work closely with the School of Education Recruiter to communicate with prospective students, assist with recruitment events, give tours of the building and offer input during prospective students' individual campus visits. This group exemplifies the spirit of the school and provides excellent opportunities for professional growth. Apply to become a student ambassador below. You will need to log into the Google forms with your USD credentials.
SERVE - Adopt a School, Big Pal/Little Pal, H.E.R.O.E.S.
USD SERVE is focused on enriching the community of Vermillion. The group upholds the goal of supporting the educational mission of USD by providing service-based learning opportunities to students, as well as creating an environment which advocates for the importance of community service and helping others.
USD Reading Council
The USD Reading Council is a non-profit educational organization dedicated to enhancing reading instruction and promoting the love of literature through a lifetime of literacy. The USD Reading Council is a professional organization for individuals who are genuinely concerned with the improvement of reading programs and teaching procedures, both developmental and remedial, for children and adults. As an affiliate of the International Reading Association, the USD Reading Council supports the goals of the association.
USD Young Professionals of Exercise and Sport
The Division of Kinesiology and Sport Management houses the USD Young Professionals of Exercise and Sport, an organization for students interested in all areas of kinesiology and sport management. The group hosts an annual Dye Hard Color Run, supports the community through fundraising events and partners with professionals to provide students with an inside look into various exercise and sport careers.
Graduate & Professional Student Association (GPSA)
Join your fellow graduate and professional students at USD. We aim to build a sense of community between graduate and professional students. Build your resume, network with others and gain experience and the unique opportunity to represent the interests of graduate students to the greater campus and community.
Departments & Facilities
Explore the departments, facilities and centers that contribute to your education in teacher residency & education.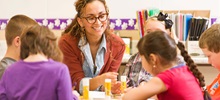 The Division of Teacher Residency & Education is focused on preparing effective, responsive teachers who can meet the needs of all students in today's schools. Through unique features such as a robust yearlong residency, an emphasis on technology and curriculum that recognizes a variety of learners, our division offers an enriching education for educators and leaders.
Faculty & staff
Get to know the faculty and staff in the Division of Teacher Residency & Education. Our faculty's K-12 experience informs their teaching; they know what it's like to manage a classroom, plan curriculum and teach a wide variety of learners, so they have the expertise necessary to prepare you for your future classroom.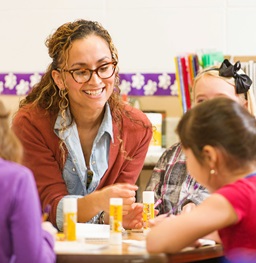 Gain Specialized Professional Skills
The program allows flexibility to take elective coursework in many areas to focus on disciplines most appropriate to your specialized professional needs.
• Elementary Education (ELED)
• Secondary Education (SEED)
• Special Education (SPED)
• American Indian Education (INED)
• Technology for Education and Training (TET)
• Learning Technology (LT)
Surprisingly Affordable
Whether you've recently completed your undergraduate degree, or you want to kick your career up a notch, graduate school is the next logical step. The good news is there is funding for both online and on-campus students to get you through your program.
| | GA (Resident*) | Resident | Online | Non-Resident |
| --- | --- | --- | --- | --- |
| Tuition (1 cr.) | | | | |
| GAF Fee (1 cr.) | | | | |
| Total | | | | |
More About Tuition & Fees
Tuition rates are subject to change and may vary depending on the program or department. Visit the Graduate Tuition & Costs page for more information.
* Graduate Assistant (GA) rates are available for resident, non-resident and online students.
** Resident rates may be available to you through the SD Advantage, Child of Alumni or Western Regional Graduate Program. To see if you quality, visit usd.edu/grad-tuition.