Human Factors
Explore your individual interests and the interactions of humans and technology through a wide range of research training, testing of design systems and environments.
Impact Human Interactions with Technology
Human factors is about making our world run smoothly. These professionals explore the interaction of humans and technology, testing the designs of systems, tasks, machines, tools and environments in order to enhance efficiency, ease of use, safety and productivity.
As a human factors student at USD, you will conduct and administer applied psychological research and serve as human factors and ergonomics specialists for organizations such as the U.S. military, the Federal Aviation Administration, technology start-up firms, top companies such as Oracle and Microsoft, and universities including Michigan State and George Mason.
Your research will be conducted with faculty who are experts and leaders in their field. Current research programs include driving and aging, interface design for educational technology, risk perception and decision making, motivation and engagement during video gameplay, traffic safety and measures of mental workload.
Prepare to make an impact on human interactions with technology as a human factors student at USD.
Degrees & Offerings
Program Details
Graduate
College
Department
Contact
Graduate Admissions
Departments & Facilities
Explore the departments, facilities and centers that contribute to your education in psychology.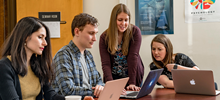 Expand your understanding of the human mind and behavior as you develop strengths in research, critical thinking, advocacy and service.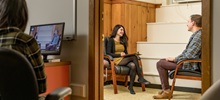 The Clinical Psychology program is committed to the scientist-practitioner model of training.
Faculty & Staff
Get to know your professors in the Department of Psychology. Our faculty serve as experts in their fields and maintain active research involving laboratory-based research, survey studies and/or community-based field research.
Surprisingly Affordable
Whether you've recently completed your undergraduate degree, or you want to kick your career up a notch, graduate school is the next logical step. The good news is there is funding for both online and on-campus students to get you through your program.
| | GA (Resident*) | Resident | Online | Non-Resident |
| --- | --- | --- | --- | --- |
| Tuition (1 cr.) | | | | |
| GAF Fee (1 cr.) | | | | |
| Total | | | | |
More About Tuition & Fees
Tuition rates are subject to change and may vary depending on the program or department. Visit the Graduate Tuition & Costs page for more information.
* Graduate Assistant (GA) rates are available for resident, non-resident and online students.
** Resident rates may be available to you through the SD Advantage, Child of Alumni or Western Regional Graduate Program. To see if you quality, visit usd.edu/grad-tuition.