Science Technology and Math Pedagogy
Gain the important knowledge and skills needed through this online certificate to teach STEM education in middle and secondary schools in new integrative and intriguing ways.
Gain the Skills You Need to Succeed
This certificate is responsive to the direction of the field of teaching, student learning and educational leadership. With a growing need for STEM teachers, this certificate will set you apart from others in education. Learn how to solve problems, make sense of information, and gather and evaluate evidence to make decisions. These skills will help you navigate and teach in an ever-changing and increasing complex world.
Students will learn the following concepts:
Demonstrate understanding of the historical and theoretical foundations of STEM education
Evaluate STEM pedagogy research to determine best practices in STEM education
Create STEM project-based learning experiences
Formulate STEM project-based learning experiences
Degrees & Offerings
Science Technology and Math Pedagogy
Certificate
Conveniently offered online, this 12 credit-hour certificate provides competency to teachers for integrating science, technology and mathematics (STEM) content into K-12 education. It applies to practicing elementary, middle and secondary teachers, as well as to those who pursue a master's in elementary education, secondary education or any STEM field.
Program Details
Graduate
College
Department
Contact
Graduate Admissions
Start Your Application Today
departments & facilities
Explore the departments, facilities and centers that contribute to your education in curriculum and instruction.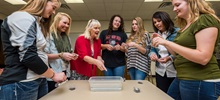 Preparing professional educators to be tomorrow's leaders in teaching through developmental, integrative and reflective practices.
Faculty & Staff
Get to know your professors in the Division of Curriculum & Instruction. Our faculty

are nationally recognized for their research and have a national network of connections to help students progress in their careers.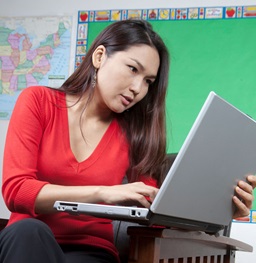 Take Your Classes Online
We're committed to bringing our knowledge to you. USD serves the largest number of online students in the state of South Dakota. With competitive online tuition rates, we offer the same price whether you're out-of-state or an in-state resident.
USD maintains a challenging and rigorous curriculum focused on preparing you to move forward in your career.
Take classes at your own pace. Enroll in an online class today!
View all online programs