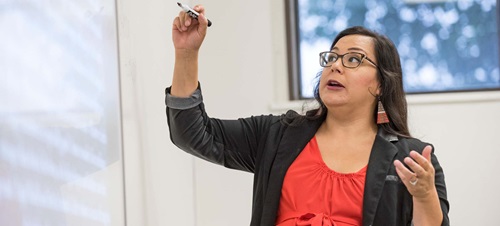 American Indian Education
Prepare for culturally responsive teaching by learning to focus on and respond to the unique needs of American Indian students.
Why Study American Indian Education?
While pursuing an American Indian Education certificate from USD, you will learn how to address challenges facing American Indian students by integrating culturally responsive teaching with your instruction. Through engaging classes, you'll discover the roles that culture, education, sovereignty and history play in effective teaching and learning. Our expert faculty will guide you in using strengths-based approaches that build on Native American assets and resiliency, as well as identifying social and emotional supports for students. By obtaining certification, you'll diversify your capabilities as a teacher and deepen your impact on students.
Use your American Indian Education certificate to become a respectful, understanding leader to American Indian students.
Degrees & Offerings
American Indian Education Certificate
Certificate
This 12-credit hour curriculum in prepares you with specialized knowledge of the American Indian population.
Program Details
Undergraduate
College
Department
Contact
Admissions
Departments & Facilities
Explore the departments, facilities and centers that contribute to your education in teacher residency & education.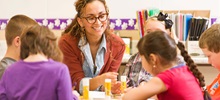 The Division of Teacher Residency & Education is focused on preparing effective, responsive teachers who can meet the needs of all students in today's schools. Through unique features such as a robust yearlong residency, an emphasis on technology and curriculum that recognizes a variety of learners, our division offers an enriching education for educators and leaders.
Faculty & staff
Get to know the faculty and staff in the Division of Teacher Residency & Education. Our faculty's K-12 experience informs their teaching; they know what it's like to manage a classroom, plan curriculum and teach a wide variety of learners, so they have the expertise necessary to prepare you for your future classroom.