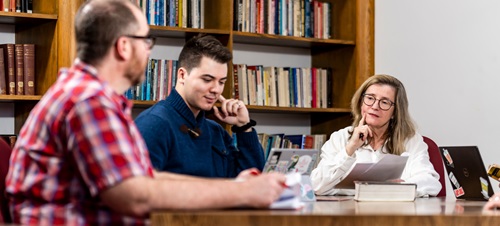 Professional Writing
Develop your craft and meet the needs of your audience by honing your ability to write in a variety of styles for any audience. Enhance your marketability with a concentration that demonstrates your writing and communication skills in environments such as business, science, government and nonprofit management.
Why Study Professional Writing?
"Professional writing" is a broad term that encompasses any sort of written communication produced in or for a professional context. Studying this cross-disciplinary field will equip you with a specific skillset applicable to a wide variety of genres, audiences, and rhetorical contexts.
Be qualified: A degree or certificate in professional writing signals that you know how to communicate effectively in any academic field or workplace setting.
Be prepared: Training in professional writing can be applied to emails, websites, memos, proposals, contracts, grants, social media posts, reports, and more. If you need to write it for your job, professional writing skills will make it polished and effective.
Be flexible: Studying professional writing equips you to adapt rhetorically to various audiences and situations so that you can compose clear, strong, and successful writing no matter where your career may take you.
Degrees & Offerings
English: Professional Writing Specialization (B.A., B.S.)
Major with Specialization
A professional writing specialization offers English majors opportunities to develop applicable skills and capabilities for a wide variety of fields and contexts. Students with training in writing, editing and communication skills are well prepared for job opportunities in a variety of professions.
Professional Writing
Certificate
A certificate in professional writing prepares you for any career that involves some form of written, visual, or verbal communication. In this program, you will take courses including English Grammar, Business Writing, Professional Writing and Rhetorical Theory & Practice. The certificate provides intensive training in a variety of writing styles and adds an extra level of preparation to your major course of study.
Program Details
Undergraduate
College
Department
Contact
Admissions
Known for Excellence
With qualities like small class sizes, specialized programs and incredible student opportunities, USD is not your typical university. What makes us unique is what makes your education exceptional.
The U.S. Bureau of Labor Statistics predicts a 12% growth in technical writing jobs by 2030.
A professional writing certificate complements any major.
Smaller class sizes ensure you receive a focused and quality education every day.
Departments & Facilities
Our faculty are experts in their fields, bringing practical experience in writing, communication and inspirational thinking.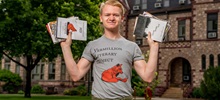 Investigate and gain insight into how we understand ourselves and communicate through stories, poetry and other narratives. Cultivate your ability to read and write and think about complex issues with the Department of English.
Faculty & Staff
Get to know your professors in the Department of English. The USD English faculty are award-winning, engaged researchers and creative scholars working within a supportive department community dedicated to providing students with diverse learning opportunities.