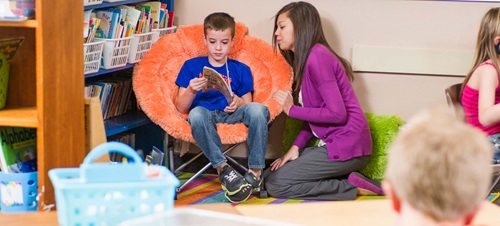 Reading K-12 Teaching
Gain the knowledge and real-world experiences you need to to become a leader who can change the world of learning for younger generations.
Why Study Reading (K-12) Teaching?
As a reading (K-12) teaching minor at USD, you will gain an enhanced understanding of reading and how to teach reading using certain methods and strategies. Here you will be immersed in a comprehensive learning experience while learning lifelong skills that will set you up for success in your field. Our program provides you with rich experiences in and beyond the classroom so you can pursue your career in education. You will enhance your teaching skills and gain professional expertise needed to excel in the workplace.
Position yourself for a successful and rewarding career in education as a reading (K-12) teaching minor at USD.
Degrees & Offerings
Reading K-12 Teaching
Minor
A minor in reading (K-12) teaching will help you develop critical thinking and leadership skills that will serve you in any career. Here you will take courses dealing with language arts, content literacy, grammar and reading methods.
Program Details
Undergraduate
College
Department
Contact
Admissions
Departments & Facilities
Explore the departments, facilities and centers that contribute to your education in teacher residency & education.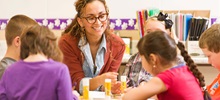 The Division of Teacher Residency & Education is focused on preparing effective, responsive teachers who can meet the needs of all students in today's schools. Through unique features such as a robust yearlong residency, an emphasis on technology and curriculum that recognizes a variety of learners, our division offers an enriching education for the next generation of educators.
Faculty & staff
Get to know the faculty and staff in the Division of Teacher Residency & Education. Our faculty's K-12 experience informs their teaching; they know what it's like to manage a classroom, plan curriculum and teach a wide variety of learners, so they have the expertise necessary to prepare you for your future classroom.