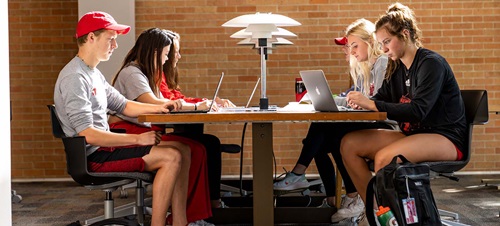 Social Media Marketing
Gain the knowledge and real-world experiences you need to become a creative brand builder across all social platforms and industry certifications to enhance your resume.
Why Study Social Media Marketing?
As a social media marketing minor at USD, you will engage in interactive projects and activities that will prepare you with the skills and experiences you need to succeed in the rapidly-changing media industry. Here you will find a variety of hands-on learning opportunities, such as interning as a content curator and brand builder for a company. Our program provides you with rich experiences in and beyond the classroom so you can pursue your career in marketing, brand building and influencer marketing or as a content strategist.
Become a leader in content calendars, brand building and community management so you can analyze engagement data, identify trends in customer interactions and plan digital campaigns to build communities online.
Degrees & Offerings
Social Media Marketing
Minor
A minor in social media marketing prepares you to build brand personas, engage in content planning, lead SEO efforts and work in media relations so you can be a leader in the social media marketing industry.
Program Details
Undergraduate
College
Department
Contact
Admissions
Departments & Facilities
Explore the departments, facilities and centers that contribute to your education in media and journalism.
Media connects us to each other and our world. Explore the art of storytelling and media marketing through the Department of Media & Journalism.
Faculty & Staff
Get to know the faculty and staff in your department. We're here to provide mentorship, expert instruction and an academic community for you and your peers.