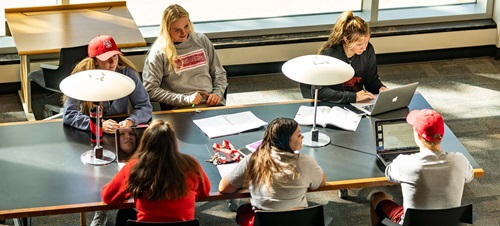 Tourism & Hospitality
Shape the conversation with knowledge and strategy in the exciting tourism and hospitality industries.
Why Study Tourism & Hospitality?
USD's tourism and hospitality marketing certificate prepares you for one of the most exciting and evolving industries in South Dakota and around the globe. Add this certificate to your major course of study and gain the research, marketing and promotion skills unique to businesses and agencies involved in tourism, event planning and accommodations.
Degrees & Offerings
Tourism & Hospitality
Certificate
Learn best practices in social media marketing, event marketing and management, public relations, and tourism marketing and promotion as you prepare to enter the tourism industry. This certificate is a great complement to a variety of majors, including media & journalism, communication studies, marketing, psychology and sustainability.
Program Details
Undergraduate
College
Department
Contact
Admissions
Departments & Facilities
Explore the departments, facilities and centers that contribute to your education in media and journalism.
Media connects us to each other and our world. Explore the art of storytelling and media marketing through the Department of Media & Journalism.
Faculty & Staff
Get to know the faculty and staff in your department. We're here to provide mentorship, expert instruction and an academic community for you and your peers.