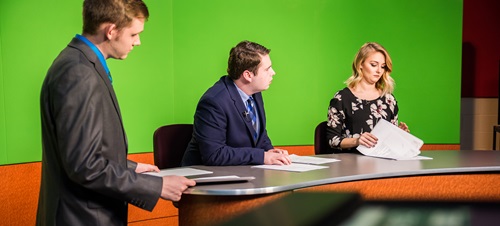 Journalism
Do you dream about running a newsroom, anchoring a primetime newscast or creating multi-platform storytelling content? Follow your passion for storytelling and gain real-world experience in the journalism field.
Why Study Journalism?
As a journalism major at USD, you will get hands-on experiences inside and outside the classroom that will set you up for a successful future as a journalist. You'll learn to research, write and present stories in a multi-platform media market through engaging classes and activities led by industry experts. You'll also benefit from outstanding facilities and opportunities, learning in the renowned Al Neuharth Media Center and leading creative efforts with The Volante campus newspaper, Coyote News, KYOT-TV and KAOR-FM. The department's excellent video and audio production facilities will help you become a well-rounded candidate as you prepare for your future in multi-platform journalism. Whether you dream of working in a lively newsroom, covering a professional sports team or becoming an investigative reporter, USD can help you get there.
Become an experienced, creative and well-rounded journalist as a journalism major at USD.
Degrees & Offerings
Media & Journalism: Journalism Specialization (B.A., B.S.)
Major with Specialization
The journalism specialization prepares you for a future as a journalist. You will learn to research, write and present stories in a multi-platform media market as you develop print, broadcast and online journalism skills.
Program Details
Undergraduate
College
Department
Contact
Admissions
Departments & Facilities
Explore the departments, facilities and centers that contribute to your education in Media & Journalism.

Media connects us to each other and our world. Explore the art of storytelling and media marketing through the Department of Media & Journalism.
Faculty & Staff
Get to know the faculty and staff in your department. We're here to provide mentorship, expert instruction and an academic community for you and your peers.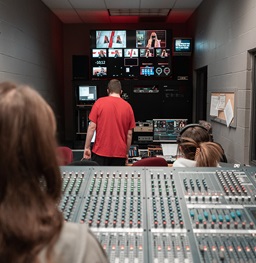 Start Hands-On Learning Your First Month on Campus
Take part in student media positions at USD as early as your first semester at USD and learn from peers as well as in the classroom. Tour our department's studios, control rooms and media labs and you will find that our media facilities and student groups are unmatched in the region when it comes to providing professionally based learning opportunities. Our experienced faculty have extensive contacts in the regional media community, that, when paired with our engaged alumni network, provide our students have unparalleled access to internships and job opportunities. You graduate with the ability to produce meaningful and effective communication along with a resume of work experience that will demonstrate all your media skills.