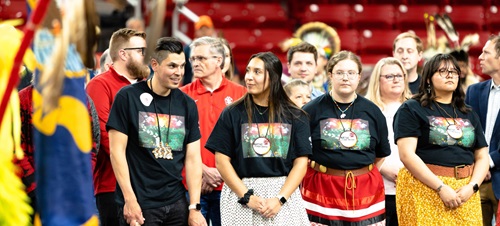 Wacipi
Immerse yourself in the vibrant traditions of Native American culture at the annual Wacipi celebration.
Celebrating 50 Years of Tradition: April 5-7, 2024
Join us for the 50th Annual Wacipi, a powwow that encapsulates the rich tapestry of Native traditions, dance and song. Hosted by the Tiospaye Student Council and USD Native Student Services, this event serves not only as a cultural celebration but also as a platform for prospective students, alumni and current leaders to connect and engage.
Wacipi History
The Wacipi underscores USD's dedication to Native students and the broader community. For Native attendees, it's a unique chance to showcase their culture on campus. For non-Native participants, it offers an immersive experience into the beauty of Native traditions. Beyond a cultural celebration, the Wacipi is a recruitment magnet, drawing prospective students from the region and serving as a nostalgic homecoming for alumni. With exponential growth in attendance, the Wacipi has become the longest-running student and campus powwow in South Dakota.
Schedule of Events
Friday, April 5:
Building Bridges Conference
Join us for the the 26th Annual Building Bridges Conference—an initiative designed to introduce Native American students to higher education. Witness the transformation as 150 to 200 high school students, counselors and community members embark on a journey of educational exploration.
Alumni Dinner
Join us for the 12th Annual Alumni Dinner hosted by the Tiospaye Student Council. Last year, over 350 alumni, current students and USD staff came together to reminisce and celebrate. This year's dinner honors the legacy of the Tiospaye Student Council over the past 50 years.
Saturday, April 6 & Sunday, April 7:
Wacipi Main Event
The main wacipi event takes place all day Saturday and Sunday in the Sanford Coyote Sports Center. Witness a mesmerizing display of Native dancers and drummers, and a variety of competitions that showcase the incredible talent from across the state and region.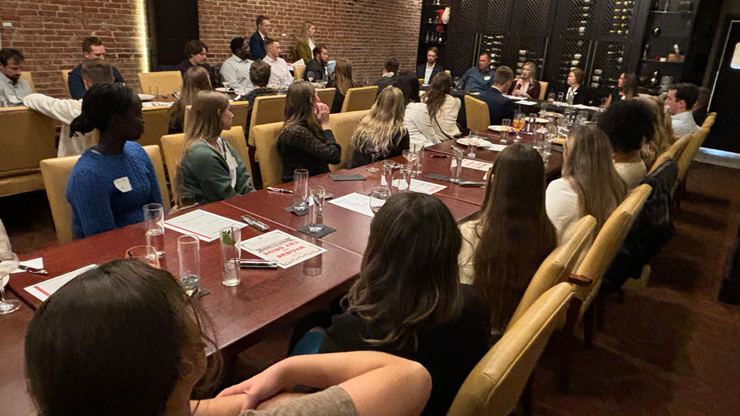 Earlier this month, the University of South Dakota Knudson School of Law's Health Law Society hosted a panel event, "Synergizing Medical and Legal Expertise for Elevated Patient Care," that brought together over 70 legal and medical professionals and students.
The University of South Dakota Knudson School of Law's Debtor-Creditor Club, a student organization established just this year, sent four students to the American Bankruptcy Institute Midwestern Conference at the University of Missouri-Kansas City last month.
Two former students of the University of South Dakota's Summer Program for Undergraduate Research in Addiction (SPURA) – Sophia Van Buskirk and Ahmed Nahian – recently had their research highlighted at the 2023 Symposium on Substance Use Research.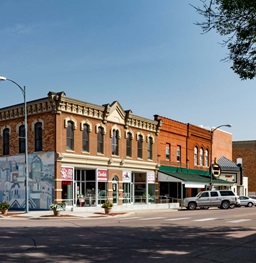 Travel Information
Whether you are planning an over-night stay or quick trip, Vermillion has something for everyone.
Plan Your Visit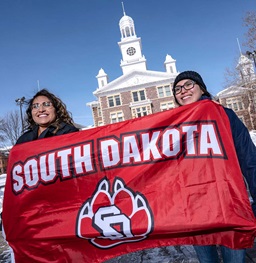 Native Student Services
At the Native American Cultural Center (NACC), you'll find a home that provides a culturally relevant environment for Native American students and others interested in Native American cultures. The NACC also houses Native Student Services (NSS), which provides student support services and culturally relevant programming throughout the year.
Learn More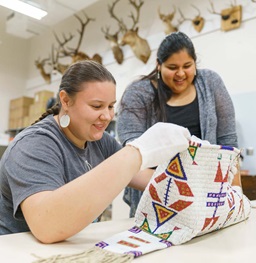 Discover Your Community
The Wiyuskinyan Unpi Tipi Living Learning Community is an immersive residential program that enhances the campus experience for Native American students.


Learn About Our Living Learning Communities