Accreditation & Outcomes
View information and student outcomes pertaining to accreditation.
We are a business school with AACSB International Accreditation distinction which represents the highest standard of achievement for business schools, worldwide. Institutions that earn accreditation confirm their commitment to quality and continuous improvement through a rigorous and comprehensive peer review. AACSB International accreditation is the hallmark of excellence in management education and part of our mission statement.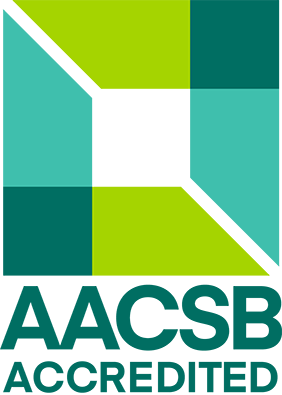 AACSB International accreditation means that the School of Business:
Manages resources to achieve a vibrant and relevant mission
Advances business and management knowledge through faculty scholarship
Provides high-caliber teaching of quality and current curricula
Cultivates meaningful interaction between students and a qualified faculty
Produces graduates who have achieved specified learning goals



Student Outcomes
Undergraduate

First Year Retention Rate

76.1%

Fall 2017 Cohort

Graduation Rate (6 year)

57.6%

Fall 2012 Cohort

Placement/Graduate School Rate

3 Months Post-Graduate

96%

May, August, December 2017

6 Months Post-Graduate

97%

May, August, December 2017

Academic Honors

Dean's List

37%
3.5 or Higher GPA

Fall 2018

148 Students
4.0 GPA

Fall 2018
Graduate

Placement Rate*
3 Months Post-Graduation

M.B.A.

99%

May, August, December 2017

M.P.A.

97%

May, August, December 2017

Placement Rate*
6 Months Post-Graduate

M.B.A.

100%

May, August, December 2017

M.P.A.

97%

May, August, December 2017

*Placement = accepted but not started, employed, continuing education or currently working but seeking other employment.

Academic Honors

ETS Exam

Scored in 91st Percentile

Spring 2018

CPA Pass Rate

M.P.A.

64.7%