Secondary Education
A master's degree program is available for secondary school personnel who are interested in gaining the knowledge and real-world experiences necessary for leadership roles in education.
Master Secondary Education Skills
Grow upon your past knowledge and skills and prepare for your future in a teaching or an administrative position in a Pre-K–12 setting. As a secondary education graduate student at USD, you will become a reflective leader and skilled educator whose practices and decisions draw upon the best available theory, research and experiential wisdom. Reflective decision-making engages administrators in cycles of thought and action based upon theoretical, ethical and professional knowledge. Aided by our expert professors, you can design an individualized plan of study that emphasizes the administrative context and meanings that are most important to you.
Become a reflective leader and explore new concepts of professional practice as a secondary education graduate student at USD.
Degrees & Offerings
Secondary Education (M.A.)
Master's
Vermillion Main Campus and Online
The Master's in Secondary Education requires students to select an area of specialization.
Secondary Education: with Certification (M.A)
Master's
Vermillion Main Campus and Online
In addition to earning your master's in secondary education you also become certified at the secondary-school level in South Dakota. Students with degrees in art, music and physical education will also have to satisfy the necessary requirements for K-12 certification. This program is unique in that students are required to complete specific undergraduate course work that is required for certification and one semester of student teaching in addition to graduate course requirements. Specific requirements are determined through a careful transcript review process.
Secondary Education: Science, Technology, & Math (M.A)
Master's
Vermillion Main Campus and Online
Now more than ever there is a need for STEM education in our schools. As society has moved to an information age, secondary teachers must be able to provide meaningful experiences which integrate science, technology and math into their curriculum to prepare students for the world in which they live. The STM specialization option prepares teachers to use current evidence-based proven practices to design, carry out, and evaluate STEM education in middle and secondary schools.
Program Details
Graduate
College
Department
Contact
Graduate Admissions
Known for Excellence
With qualities like small class sizes, specialized programs and incredible student opportunities, USD is not your typical university. What makes us unique is what makes your education exceptional.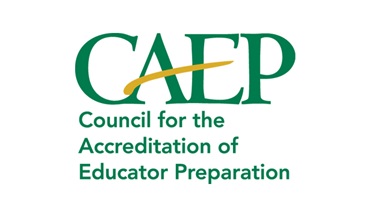 The USD School of Education has been accredited by CAEP (formerly NCATE) since 1956.
U.S. News & World Report Ranks USD School of Education among the "Best in the Nation" for the 4th consecutive year.
The small faculty-student ratios assure you the one-on-one attention and mentorship you need to succeed whether you are on campus or attend class online.
STUDENT OPPORTUNITIES
As a student at USD, the opportunities available to you extend beyond the classroom. Explore your interests, find your community and experience your education to the fullest extent through the following opportunities.
An Affordable Education

Gain valuable real-world, professional experience while enjoying paid employment and discounted tuition rates as a graduate student at USD. The affordability you gain through graduate assistantships and fellowships will equip you with valuable, professional-level skills that will set you apart after graduation.
Teaching and research assistantships are awarded by individual departments. If you do not receive an assistantship within your department, you are eligible for an assistantship outside of your academic program or within support offices (non-academic units) at USD. Further inquiries should be directed to the graduate director of the department.
At USD, our graduate students are actively pursuing unique research and presenting at local and national conferences exploring innovative areas of interest to them. Additional research and grant opportunities include:
USD is home to more than 170 student organizations, including several that are housed in the School of Education. You may be interested in joining a student organization to make friends, develop new skills and explore your interests.
Council for Exceptional Children
The Council for Exceptional Children (CEC) is a special education organization that works with children who have special needs. Members do various service projects for the community that serves individuals with special needs and their families.
National Association for the Education of Young Children
The National Association for the Education of Young Children is a professional membership organization that promotes high-quality education and learning for young children by addressing policy, research and early childhood practice.
National Education Association & South Dakota Education Association
The USD chapter of the South Dakota Education Association aims to acquaint students in teacher education programs with the history, ethics and programs of the education profession while also supporting and increasing their involvement in the community.
School of Education Student Ambassadors
Communicate with prospective students, assist with recruitment events, give tours of the building and offer input during prospective students' individual campus visits. This group exemplifies the spirit of the school and provides excellent opportunities for professional growth.
SERVE - Adopt a School, Big Pal/Little Pal, H.E.R.O.E.S.
USD SERVE is focused on enriching the community of Vermillion. The group upholds the goal of supporting the educational mission of USD by providing service-based learning opportunities to students, as well as creating an environment that advocates for the importance of community service and helping others.
USD Reading Council
The USD Reading Council is dedicated to enhancing reading instruction and promoting the love of literature. A professional organization, we are genuinely concerned with the improvement of reading programs and teaching procedures, both developmental and remedial, for children and adults.
Graduate & Professional Student Association (GPSA)
Join your fellow graduate and professional students at USD. We aim to build a sense of community between graduate and professional students. Build your resume, network with others and gain experience and the unique opportunity to represent the interests of graduate students to the greater campus and community.
Departments & Facilities
Explore the departments, facilities and centers that contribute to your education in teacher residency & education.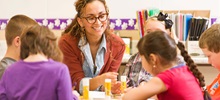 The Division of Teacher Residency & Education is focused on preparing effective, responsive teachers who can meet the needs of all students in today's schools. Through unique features such as a robust yearlong residency, an emphasis on technology and curriculum that recognizes a variety of learners, our division offers an enriching education for educators and leaders.
Faculty & staff
Get to know the faculty and staff in the Division of Teacher Residency & Education. Our faculty's K-12 experience informs their teaching; they know what it's like to manage a classroom, plan curriculum and teach a wide variety of learners, so they have the expertise necessary to prepare you for your future classroom.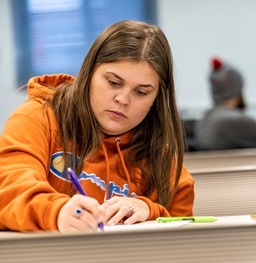 Tailor the Program to Your Interests and Career Goals
Graduate with a degree that reflects your passions and sets you apart.
USD's graduate degrees in secondary education are unique in that you can craft the program to fit your interests and career goals. You'll learn from supportive and expert faculty and take classes from other departments across campus to expand your skillset and knowledge. This unique structure provides a versatile and supportive climate that prepares students for effective participation in an information-rich society.
Impact the Lives of Your Students
Master your leadership skills and study in greater depth all curriculum and instructional areas related to teaching in middle and high schools. Strengthen your teaching skills and expand your knowledge to include a variety of current materials and programs used in elementary schools.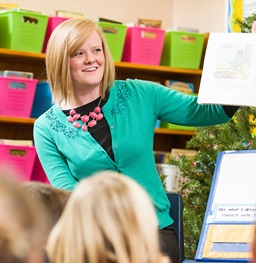 Discounted Tuition for South Dakota Teachers and Vocational Instructors
If you live in South Dakota, be sure and take advantage of the 50% reduced tuition program for currently contracted elementary/secondary teachers and vocational instructors.
Learn More
Surprisingly Affordable
Whether you've recently completed your undergraduate degree, or you want to kick your career up a notch, graduate school is the next logical step. The good news is there is funding for both online and on-campus students to get you through your program.
| | GA (Resident*) | Resident | Online | Non-Resident |
| --- | --- | --- | --- | --- |
| Tuition (1 cr.) | | | | |
| GAF Fee (1 cr.) | | | | |
| Total | | | | |
More About Tuition & Fees
Tuition rates are subject to change and may vary depending on the program or department. Visit the Graduate Tuition & Costs page for more information.
* Graduate Assistant (GA) rates are available for resident, non-resident and online students.
** Resident rates may be available to you through the SD Advantage, Child of Alumni or Western Regional Graduate Program. To see if you quality, visit usd.edu/grad-tuition.