Secondary Education
A master's degree program is available for secondary school personnel who are interested in gaining the knowledge and real-world experiences necessary for leadership roles in education.
Master Secondary Education Skills
Grow upon your past knowledge and skills and prepare for your future in a teaching or an administrative position in a Pre-K–12 setting. As a secondary education graduate student at USD, you will become a reflective leader and skilled educator whose practices and decisions draw upon the best available theory, research and experiential wisdom. Reflective decision-making engages administrators in cycles of thought and action based upon theoretical, ethical and professional knowledge. Aided by our expert professors, you can design an individualized plan of study that emphasizes the administrative context and meanings that are most important to you.
Become a reflective leader and explore new concepts of professional practice as a secondary education graduate student at USD.
Degrees & Offerings
Secondary Education (M.A.)
Master's
Vermillion Main Campus and Online
The Master's in Secondary Education requires students to select an area of specialization.
Secondary Education: Science, Technology, & Math (M.A)
Master's with Specialization
Vermillion Main Campus and Online
Now more than ever there is a need for STEM education in our schools. As society has moved to an information age, secondary teachers must be able to provide meaningful experiences which integrate science, technology and math into their curriculum to prepare students for the world in which they live. The STM specialization option prepares teachers to use current evidence-based proven practices to design, carry out, and evaluate STEM education in middle and secondary schools.
Secondary Education: Culturally & Linguistically Diverse Learners (M.A.)
Master's with Specialization
Vermillion Main Campus and Online
Distinctly designed for the practicing educator, you will experience a current and relevant curriculum that meets your professional needs. Teachers at all levels must be aware of and trained to meet the needs of learners from a variety of cultural backgrounds and experiences. The culturally and linguistically diverse (CLD) specialization explores evidence-based methods and materials for adapting practices, programs and policies to meet the needs of all learners, particularly English Language Learners (ELLs) and other cultural and linguistically diverse communities.
Accelerated Secondary Education: Culturally and Linguistically Diverse Learners (M.A.)
Major + Master's
Vermillion Main Campus and Online
You can also choose an accelerated option when specializing in culturally and linguistically diverse learners. If you are a current USD undergraduate student who would like to begin a master's degree while completing your bachelor's degree, you may apply and begin the program after the completion of 90 undergraduate credit hours.
Program Details
Graduate
College
Department
Contact
Graduate Admissions
Start Your Application Today
Each program has unique application requirements and deadlines. Be sure and consult the graduate catalog for detailed program information. It will ensure your application and materials are complete and submitted on time. To learn more about the application process, visit how to apply.
Known for Excellence
With qualities like small class sizes, specialized programs and incredible student opportunities, USD is not your typical university. What makes us unique is what makes your education exceptional.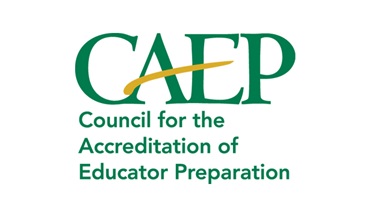 The USD School of Education has been accredited by CAEP (formerly NCATE) since 1956.
U.S. News & World Report Ranks USD School of Education among the "Best in the Nation" for the 4th consecutive year.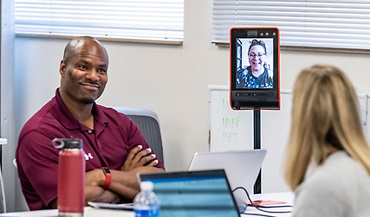 The small faculty-student ratios assure you the one-on-one attention and mentorship you need to succeed whether you are on campus or attend class online.
Student Opportunities
There are a wide range of academic opportunities available to you which extend beyond the classroom. Visit our department webpage for more information about the experiences and resources you can look forward to at USD.
Learn more about curriculum & instruction 
departments & facilities
Explore the departments, facilities and centers that contribute to your education in curriculum and instruction.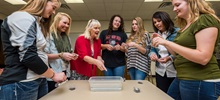 Preparing professional educators to be tomorrow's leaders in teaching through developmental, integrative and reflective practices.
Faculty & Staff
Get to know your professors in the Division of Curriculum & Instruction. Our faculty

are nationally recognized for their research and have a national network of connections to help students progress in their careers.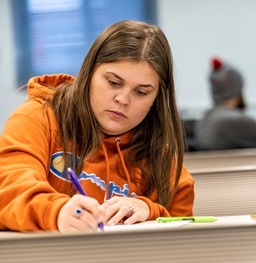 Tailor the Program to Your Interests and Career Goals
Graduate with a degree that reflects your passions and sets you apart.
USD's graduate degrees in secondary education are unique in that you can craft the program to fit your interests and career goals. You'll learn from supportive and expert faculty and take classes from other departments across campus to expand your skillset and knowledge. This unique structure provides a versatile and supportive climate that prepares students for effective participation in an information-rich society.
Impact the Lives of Your Students
Master your leadership skills and study in greater depth all curriculum and instructional areas related to teaching in middle and high schools. Strengthen your teaching skills and expand your knowledge to include a variety of current materials and programs used in elementary schools.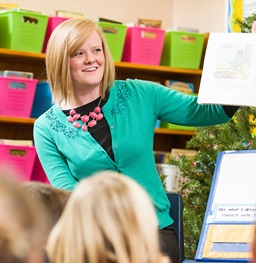 Discounted Tuition for South Dakota Teachers and Vocational Instructors
Take advantage of the 50% reduced tuition program for current South Dakota elementary/secondary teachers and vocational instructors.


Learn More
Surprisingly Affordable
Whether you've recently completed your undergraduate degree, or you want to kick your career up a notch, graduate school is the next logical step. The good news is there is funding for both online and on-campus students to get you through your program.
| | Resident & WRGP | MN Residents | Non-Resident |
| --- | --- | --- | --- |
| Tuition (9 cr.) | | | |
| Fees (9 cr.) | | | |
| Books (estimate) | | | |
More About Tuition & Fees
This is an estimate tuition rate* per credit hour and other factors such as special fees associated with your program may change the cost of tuition. Tuition rates are subject to change.
If you are wondering about how to pay for graduate school, there are additional funding options to consider.