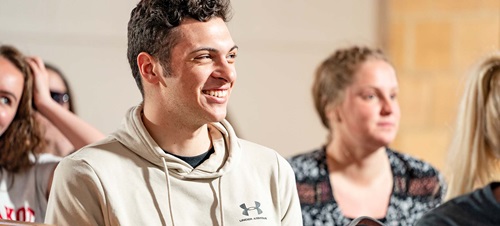 Honors Program
Curious scholars. Exceptional leaders. The USD Honors Program provides highly motivated and engaged students with opportunities to connect with faculty, participate in undergraduate research and make the most of their education in and out of the classroom.
What is Honors all about?
The Honors Program at USD is open to students of all majors and academic backgrounds. Honors is about developing you into a person who's passionate about contributing to society and preparing for a rapidly changing world. By fostering enriched educational opportunities for academically talented and highly motivated students, USD's Honors Program offers an engaging, stimulating and rewarding experience.
Our students are some of the most active and engaged on campus. In the Honors Program you'll find a welcoming community of lifelong learners who get involved and design their education to fit their interests.
450
exceptional students make up the close, supportive community in Honors.
92% of 2019 Honors graduates had jobs or were accepted into post-graduate programs by graduation.
36
honors students have won nationally-competitive scholarships over the past 10 years.
Honors Curriculum
The Honors curriculum is designed to work with every major and has multiple paths to completion without adding time to graduation. Honors courses are specifically designed for our students, but they also meet the same academic requirements as equivalent general education courses.
This design lets you have the full USD undergraduate experience while taking smaller, discussion-based classes with students who are similarly motivated and come from all majors across campus. We teach you to explore complex issues, develop your own opinions and persuasively share your conclusions in writing and discussion. These are skills that will give you a competitive advantage for your plans after graduation.
Here's a glimpse into the academic experiences in our curriculum.
Unique Honors Opportunities
Traditional classroom experiences are only part of the Honors Program at USD. There's a vibrant, energetic community of students outside the classroom, too. Check out the variety of engaging learning and leadership opportunities you can look forward to here.
All first-year Honors students have exclusive access to a residence hall floor where you'll live with other students who are both serious about academics and about getting involved at USD. In addition to a greater sense of community, fostered by our awesome Honors Resident Assistants, students in the Honors Living Learning Community have higher GPAs and a higher retention rate than the campus average. The Honors Floor is located in Beede Hall in the North Complex.
Learn More
Each year, we gather our first-year students to introduce all of the resources USD and the Honors Program provide. At our orientation program you'll meet your Honors community, get connected to a faculty member in your major, and meet your Honors Peer Mentor. In addition you'll participate in our signature First-Year Reading Project, a common read program designed to introduce you to the Honors experience.
The Honors Program offers a variety of cultural, educational and social trips to regional attractions for a free or reduced cost to our students. Recent trips have included:
The Sioux City International Film Festival, Sioux City, Iowa
Stampede Hockey Game, Sioux Falls, South Dakota
Opera and Symphony concerts, Omaha, Nebraska
Upper Midwest Honors Conference, Menomonie, Wisconsin
Plus many more sponsored programs in the immediate area!
The Honors Program is committed to preparing students for life after college. Recent professional development opportunities have included:
Networking with prominent USD alumni
Academic & career readiness workshops
Weekly newsletter with scholarships, internships, and job opportunities
Honors Leadership Program: a 5-week program dedicated to building upon the strengths of our students. This event is partnered with Student Services, the Emerging Leaders Institute and the Multicultural Leadership Institute.
The Honors Association (HA) is the student organization on campus affiliated with the Honors Program. Honors students lead HA, and as all Honors students are considered members, they are invited to the group's monthly meetings where they plan events like game and movie nights, BBQs, service projects, speakers and faculty appreciation activities.
Every first-year student in the Honors Program is paired with an upperclass peer mentor. Honors Peer mentors plan activities each week to help first-year students transition to college and get to know their Honors peers. Events hosted by Honors Peer Mentors include lab tours, attending the study abroad fair, movie nights on the Honors Floor and themed socials in the Honors Lounge.
Faculty & Staff
Get to know the faculty and staff in the Honors Program. We provide mentorship, expert instruction, support for nationally competitive scholarships and an academic community for you and your peers.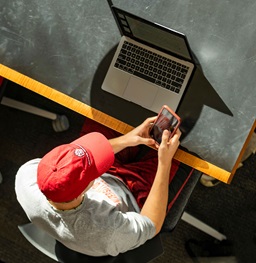 Nationally Competitive Scholarships
Nationally competitive scholarships are prestigious and highly competitive scholarships available to U.S. undergraduate and graduate students. Although these scholarships are difficult to win and require substantial preparation, USD students have great success, with more than 35 USD students receiving these prestigious scholarships in the last 10 years
.
The Honors Program offers support for all USD students interested in nationally competitive scholarships.
Learn More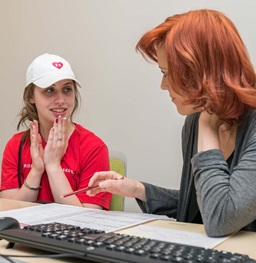 Visit Honors
Ready to learn more? Come see us when you visit campus! You can sign up to meet with a staff member from the Honors Program when you schedule an individual campus visit.


Sign Up to Visit