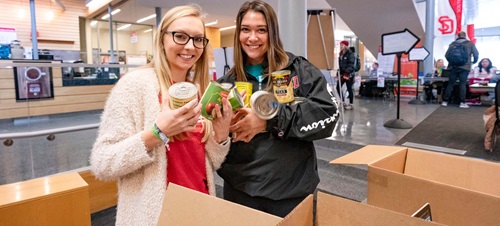 Service Learning
Connect your classroom learning to community action. Service learning is a form of experiential education where you apply concepts learned in the classroom to real world problems and community projects.
USD's Gallagher Center for Experiential Learning & Education Abroad (GC) provides students with opportunities to enroll in service learning courses, travel and serve on alternative break trips, participate in National Days of Service or simply volunteer your time with a local community agency.
GC encourages faculty members to offer service learning opportunities for students by supporting community-based projects. More information for faculty about community-based learning and research is available in the myUSD Portal.
Serve Others, While Learning About Yourself
Service Learning
The courses that include service learning components vary from semester to semester. Course examples include:
SUST 111: Sustainable Society
SUST 489: Sustainability Capstone
DCOM 423: Aural Rehabilitation
HSC 110: The Interprofessional Health Team
CJUS 450: Justice and Compassion
MGMT 352: Business Service Learning Experience