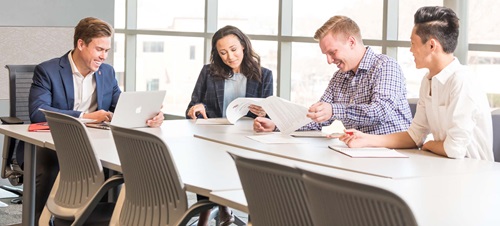 Innovation and Entrepreneurship
Create business opportunities, plan, establish and grow new ventures or manage innovative projects at new and existing firms.
Why Study Innovation & Entrepreneurship?
As an innovation & entrepreneurship major at USD, you will learn to think creatively and collaborate effectively so you can drive companies to success. Here you will find a variety of experiential learning opportunities ranging from internships in Sioux Falls or Omaha to study abroad trips to Japan. Our program provides you with rich experiences in and beyond the classroom so you can use your desire to innovate, evolve and shake things up to launch your own startup or redefine your company's success.
Become a game changer ready to reimagine the traditional ways of business as an innovation & entrepreneurship major.
Degrees & Offerings
Innovation & Entrepreneurship (B.B.A)
Bachelor's
A degree in innovation & entrepreneurship provides you with the skills to create new business opportunities, plan, establish and grow new ventures or manage innovative projects at new and existing firms.
Business Administration (B.B.A/M.B.A.)
Accelerated Program
Business majors meeting requirements for entry into the Masters of Business Administration (M.B.A.) program may opt to complete both the B.B.A and M.B.A. concurrently. Students who pursue this option will be awarded their undergraduate and graduate degrees simultaneously, upon completion of the two programs. Permission to be awarded the undergraduate degree prior to the completion of the graduate degree is available.
Innovation and Entrepreneurship
Minor
A minor in innovation & entrepreneurship will help you develop creativity, innovation and entrepreneurial thinking that will serve you in any career. This program is a great complement to a variety of non-business majors, including business administration, art, kinesiology and sport management and those thinking of starting their own business.
Business Innovation and Entrepreneurship
Minor
As a business student, you can minor in business innovation & entrepreneurship to broaden your ability to develop creative, innovative and entrepreneurial thinking that will serve you in any career. This program is a great complement to any business major.
Program Details
Undergraduate
College
Department
Contact
Admissions
Known For Excellence
With qualities like small class sizes, specialized programs and incredible student opportunities, USD is not your typical university. What makes us unique is what makes your education exceptional.
100000
Dollars awarded to USD students in the Hult Prize's 2020 Global Startup Challenge.
Network with entrepreneurs around the state and learn from successful entrepreneurs and business investors.
Pitch your business ideas at regional and national conferences.
STUDENT OPPORTUNITIES
As a student at USD, the opportunities available to you extend beyond the classroom. Explore your interests, find your community and experience your education to the fullest extent through the following opportunities.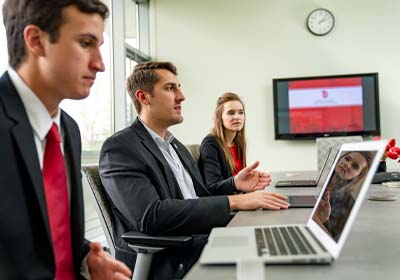 The real-world experiences you gain through an internship will equip you with valuable skills that will set you apart after graduation.
In the USD Beacom School of Business, you will benefit from a robust internship program that has placed students across the country and globe. You will gain rich experiential learning opportunities and will be able to use the techniques you have learned in courses in a business setting. Plus, with our network of alumni around the world, you can access invaluable advice on how to achieve the career of your dreams.
Do you have your sights set on Cuba? Africa? Germany? Japan? Ireland? The USD Beacom School of Business can help you get there. Our students have participated in conferences and faculty-led courses around the world, and our student aid helps make those experiences affordable.
USD is home to more than 170 student organizations, including several that are housed in the Beacom School of Business. You may be interested in joining Beta Alpha Psi, Society for Human Resource Management or Coyote Capital Management to make friends, develop new skills and explore your interests.
As a business administration student at USD, you will be supported by your faculty and peers to make connections between your academic experience and your career path. You will grow personally and professionally during their time on campus and your career development begins the first day of classes.
The Career Success Center has career development services to support students every step of the way. You will build relationships with alumni, employers and graduate schools to optimize internship, job and career opportunities. These partnerships assist you in developing co-curricular experiences that will help to ensure they are successful in their future pursuits.
USD offers a range of scholarships for students, including scholarships specifically for health services administration majors. The Beacom School of Business strives to recognize and reward outstanding students for their accomplishments and potential through scholarships and travel funding.
Departments & Facilities
Explore the departments, facilities and centers that contribute to your education in entrepreneurship, management, and marketing.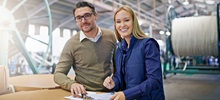 As the business world continues to grow and diversify, our students graduate with both a firm knowledge of business essentials and the experience they'll need to apply that knowledge to an exciting, ever-changing field.
Faculty & Staff
Get to know the faculty and staff in the Entrepreneurship, Management and Marketing Division. Our faculty are experts in their field, contributing research and scholarship in training and development, emotional intelligence and management.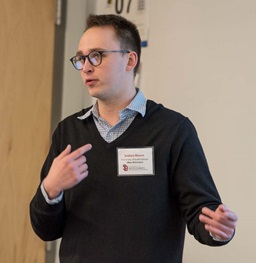 Gain Real-World Experience
The i2i Business Model Competition offers university and high school students the chance to win funding for their business ideas. The competition assists aspiring entrepreneurs in the new approach to launching companies, will help them become a more successful entrepreneur and decrease the time it takes for them to reach that success.
Have an idea that needs to be taken to the next level?
Transform your idea into reality
Win cash prizes to invest into your business concept
Get feedback from business leaders and investors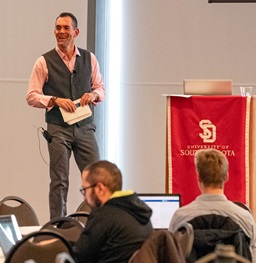 Network and Navigate Your Dream Career
Beacom School of Business invites the business community to stay current on business issues through guest speakers, events and networking opportunities that occur throughout the year. We also invite interest from the business, government and not-for-profit community regarding potential partnerships that offer mutual benefits such as:
Presentations, panels and discussions
Student connections, internships and recruiting opportunities
Engagement with faculty to share expertise and expand research
Support for scholarships and other business school initiatives
Tuition & Costs
USD offers low tuition rates for in-state and out-of-state students, as well as scholarships, financial aid and employment opportunities to help make your education even more affordable.

| | SD Residents, SD Advantage* & Child of Alumni | MN Residents | Out-of-State |
| --- | --- | --- | --- |
| Tuition (30 cr.) | | | |
| Fees (30 cr.) | | | |
| Books (estimate) | | | |
| Housing | | | |
| Food Service | | | |
| Total | | | |
* SD Advantage: The in-state rate is available to new undergraduate students who are residents of South Dakota, Colorado, Illinois (starting Summer 2023), Iowa, Montana, Nebraska, North Dakota, Wisconsin (starting Summer 2023), Wyoming and children of alumni of USD.
More About Tuition & Costs
This is an estimated annual cost. Other factors may change the cost of tuition.
Learn more about tuition and fees for undergraduate students and see how your out-of-pocket costs at USD compare to those at other colleges and universities.
Navigating options for how to pay for college can be challenging, but you are not alone. The Office of Financial Aid will work with you and your family to explore how you can make your college education even more affordable.
USD awards nearly $9.5 million in scholarships each year. View our scholarships to see which ones you may qualify for and how you can apply.