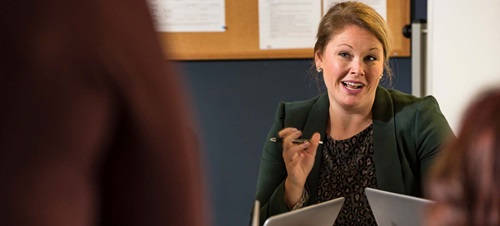 Technical Leadership
Build upon your technical degree and transform your credits into a bachelor's degree as you grow into your career.
Why Study Technical Leadership?
As a technical leadership major, build upon your community college or technical college degree with the knowledge and skills needed to take on leadership and supervisory positions in your field of expertise. You will gain a broad general education while specializing in one of seven emphasis areas to enhance your professional abilities. Employers are searching for individuals with technical expertise as well as the communication and critical thinking skills needed to lead workgroups, teams, and departments.
Build upon your technical expertise and become a skillful communicator, manager and team builder as a technical leadership major at USD.
Degrees & Offerings
Technical Leadership (B.S.)
Major
Vermillion Main Campus, Sioux Falls and Online
This interdisciplinary bachelor's degree is open to students who have earned a technical degree and seek to move into leadership and supervisory positions. Students earning a B.S. in Technical Leadership complete all general education requirements (30 hours), as well as one emphasis area (minimum 11 credit hours of coursework), internship course or a capstone course specific to the technical leadership. Emphasis areas are communication and leadership, healthcare leadership, management, personnel supervision, regulatory affairs, small business entrepreneurship, and web design. Courses in these areas range from Organizational Behavior and Theory and Human Resource Management to Intercultural Communication and Team Building and Group Decision Making.
Program Details
Undergraduate
College
Contact
Admissions
Faculty & Staff
Get to know the faculty and staff in the College of Arts & Sciences.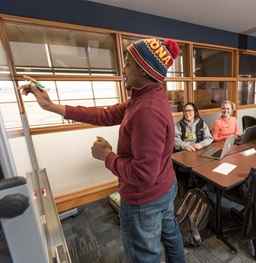 Pathway to Advancement in the Workforce
Employees who combine their technical skills with knowledge earned from a bachelor's degree are well-suited for moving into supervisory and management positions at their current workplace.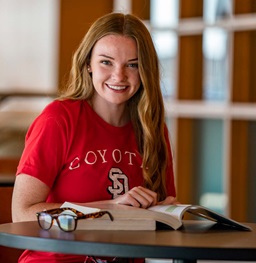 Earn More with a Bachelor's Degree
According to the U.S. Bureau of Labor Statistics Current Population Survey (2020), workers with a bachelor's degree have average salaries 29% higher than those with associate degrees.
Tuition & Costs
USD offers low tuition rates for in-state and out-of-state students, as well as scholarships, financial aid and employment opportunities to help make your education even more affordable.

| | SD Residents, SD Advantage* & Child of Alumni | MN Residents | Out-of-State |
| --- | --- | --- | --- |
| Tuition (30 cr.) | | | |
| Fees (30 cr.) | | | |
| Books (estimate) | | | |
| Housing | | | |
| Food Service | | | |
| Total | | | |
* SD Advantage: The in-state rate is available to new undergraduate students who are residents of South Dakota, Colorado, Illinois (starting Summer 2023), Iowa, Montana, Nebraska, North Dakota, Wisconsin (starting Summer 2023), Wyoming and children of alumni of USD.
More About Tuition & Costs
This is an estimated annual cost. Other factors may change the cost of tuition.
Learn more about tuition and fees for undergraduate students and see how your out-of-pocket costs at USD compare to those at other colleges and universities.
Navigating options for how to pay for college can be challenging, but you are not alone. The Office of Financial Aid will work with you and your family to explore how you can make your college education even more affordable.
USD awards nearly $9.5 million in scholarships each year. View our scholarships to see which ones you may qualify for and how you can apply.